Dear Flock,
If you've listened to any of the reviews that I've done for the Our Hen House podcast, you're likely quite familiar with my burning passion for cooking and homemaking everything from cashew cheese to granola to hot sauce. Unsurprisingly, this passion extends well into the world of plant-based meats – I love me a good pulled "pork" sandwich made from jackfruit, and just last night enjoyed a version of the popular 50's "wedge" salad veganized with seitan "bacon" bits (get the recipe in Terry Hope Romero's new cookbook Salad Samurai, which I recently reviewed on the podcast!).
I'm certainly not the only one on the OHH team who hold a soft spot in her heart (and stomach) for a hearty, animal-free meat; case-in-point, the Flock Doc below, penned by one Jasmin Singer way back in 2012. We're excited to re-post this piece, along with its mouthwatering recipe for bean-and-grain meat courtesy of the ever-fabulous Michelle Schwegmann of Herbivore Clothing Company. Enjoy!
Cheers,
Alessandra Seiter
Intern and Contributing Writer
***
#PRIVATE# In vitro meat is a hot topic. So are the increasingly successful plant-based meats, like Beyond Meat, Field Roast, Tofurky. We are celebrating the fact that these products are flying off the shelves. And, though we recognize that they are too often a prohibitively expensive alternative for those of limited means, we all know that that's because the market is skewed. Animal-based products are supported by massive subsidies for feed crops. And plant-based meats are disadvantaged by economies of scale — it's more expensive to market your product to a small audience. As soon as there are more of us, the price will go down.
These are all things to celebrate. We love these products, and we wish them all well.
But there is another side of the plant-based meat story that is starting to emerge — DIY. And we love it.
If we pass through Atlanta on our trip back East, [EDITOR'S NOTE: This piece was originally written just before we Hens embarked upon our second road trip of 2012, from Portland back to NYC] one of the first places we intend to stop is Dough Bakery, which is selling a locally produced selection of deli meats from brand new start-up Gutenfleischers. How exciting is this? We love that the production of plant-based meats has started to decentralize, and that small local businesses are starting to produce their own products.

Or, let's think about taking this one step further. How about just making your own meat? We were inspired by this recent
[EDITOR'S NOTE: Well, not so recent anymore…]
Facebook status update posted by Michelle Schwegmann of
Herbivore Clothing Company
: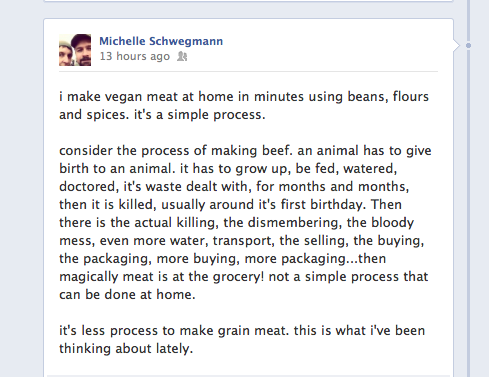 It's so true. Plant-based alternatives are not only better for your health, better for the planet, and, most of all, better for the animals, but they are the ultimate stick-it-to-the-man, power-to-the-people food choice. We don't just need to rethink what meat is,  we need to get used to the idea that when we're vegan, we're truly in charge of our food.  In case, like us, you're feeling inspired to take back the meats, here's Michelle's recipe:
Just Your Basic Grain Meat
by Michelle Schwegmann
For me, it all started with something called the "seitan o'greatness," which was an adaptation of an adaption of a recipe… maybe by Louise Hagler or Bryanna Clark Grogan? Then Julie Hasson came along and blew everyone's mind with her steaming method for seitan sausages….then Isa Moskowitz put it in print in her book, Vegan Brunch. Then Julie had her recipes in her wonderful book, Vegan Diner, and now, I will share my version with you. There are endless variations of this recipe. Research! Learn! Eat! Vegan meat has many forms. This is one. Be brave. It is more simple than you think.
[print_this]
Ingredients:
4-5 cloves garlic
1 cup beans (whatever light ones you have, garbanzo, kidney, cannelini) rinsed and drained.
1/4 cup (scant) olive oil
1/4 cup soy sauce (or Bragg's Liquid Aminos)
2 cups water or veggie broth
2 ½ cups vital wheat gluten flour
½ cup nutritional yeast
2 teaspoons thyme
2 teaspoons oregano
2 teaspoons ground sage
2 teaspoons paprika
fresh ground black pepper
Directions:
Using your food processor with the metal blade, pulse the garlic until it's finely chopped, stopping to scrape it down if necessary, then pulse some more. Add the beans, olive oil and soy sauce, and pulse until the beans are almost puréed. Transfer this wet mixture to a bowl large enough to accommodate the remaining ingredients.
Add the water or broth, gluten flour, nutritional yeast, thyme, oregano, sage, paprika and pepper. Using a spatula, mix ingredients. A dough will quickly form — you will be able to assimilate all of the dry into the wet easily and completely. Stir together for about a minute, but don't work it too much! The oven will do the rest.
Now you have a CHOICE! You can make a big seitan roast, or 6-8 large seitan sausages.
If you choose to make a roast, you should: preheat the oven to 350º. Tear off a piece of tinfoil large enough to accommodate a tootsie roll the size of your dough. I know, funny! Place the gluten onto the foil and shape it into a rough loaf; about 4 inches by 8-10 inches. Just roughly shape it. Carefully roll the foil over and roll the ends like a tootsie roll. Not too tight — keep it loose, as your seitan will expand. If you are afraid your foil isn't big enough, roll another piece of foil around it just to be safe.
Bake in your oven for 90 minutes. Halfway through, turn it over. Then be sure to let it cool before you you slice your roast!
If you choose to make smaller sausages: prepare a pot of boiling water with a steamer basket. In the same manner you made the large tootsie roll, you are going to make smaller ones. Cut 6-8 pieces of foil about 8 inches square. Divide your dough, and form the sausages into tootsie rolls. Don't roll too tight! Place in the steamer basket and steam for 45 minutes. Let cool before slicing or serving.
For both types of seitan, you can slice and saute, or slice and eat… pour gravy over…. use the small ones like hot dogs or larger sausages… however you'd like!  Enjoy your cruelty free meat.
XO[/print_this]
One last thing. You know that you have a true friend when you concoct an idea for an exclusive flock-only blog entry, text that person and say "hey, we have this idea and we kind of need a recipe from you in the next hour… cool?" And then, miraculously, there is that recipe, right there in your email box. Along with tons of X's and O's.
In other words, thank you, Michelle. XOXOXOXOXOXOXOX