We're sure that by now, all of you darling flock members are just as addicted to reading Robin Lamont's The Chain as we are. Did you catch her squawking about it on the OHH podcast and TV show? Robin is generous enough to be sharing the entire novel with you installments. Not only is it a well-written story that keeps readers on the edge of their seats, but it also has animal rights themes. 
Here are the previous installments if you've missed any: #PRIVATE#
Chapters 1-3
Chapters 4-6
Chapters 7-9
Chapters 10-13
Chapters 14-16
Chapters 17-19
Chapters 20-23
Now without further ado, here are chapters 24-26!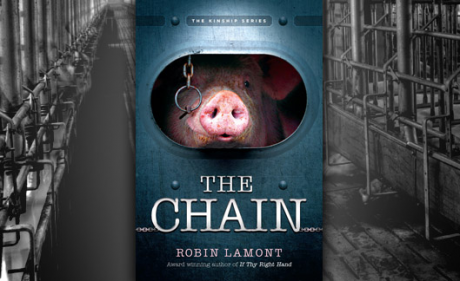 The Chain (cont.)
Chapter 24
Emmet walked into the kitchen where Alice paced restlessly, her cell phone clutched in her hand like a life line.
"Where have you been?" she demanded. "Oh, right. The Lazy Cat again."
"Alice, please," he cautioned, closing his eyes to the overwhelming sense of isolation that enveloped him. Nothing new. Sometimes just walking through the front door was enough to trigger it. At home he had to be strong, he had to lock up what he did all day into a secret compartment where it festered and ate him alive from the inside. He couldn't talk about it with his wife; she was stressed and anxious enough as it was. God knows, he couldn't tell his children. He couldn't talk about it with the guys at work – they were as ready as he was to leave the slaughterhouse behind each day. Clock out, then purge the smell of blood and fear with a hot shower and a six-pack.
It was funny, he thought, Jude Brannock was in all respects the enemy, and yet with her he didn't feel quite so alone. She hated what he did – but she understood him. And that created a craving he had never quite felt before.
"Are you listening to me, Emmet?" asked Alice.
"Yes, yes. Caroline's probably with that kid Jack," he said, taking a plastic cup from the dish drainer and filling it with tap water.
"I told her that if she ever went off with him again without telling me, there would be severe consequences," Alice said without conviction.
Emmet drained the water and smacked his cup down on the counter with a distinctive crack. "Well, she doesn't listen to you, Alice," he said harshly. "She doesn't listen to me. She's a selfish little shit who doesn't give a good goddamn about anybody but herself."
"Please don't be angry." Alice collapsed on a kitchen chair. "Please, not tonight. I just want to find her."
"She'll turn up," said Emmet.
"How can you be so sure?"
"Because she's done this before," he argued.
"Maybe if you didn't always see the worst in her, she wouldn't feel the need to run away," responded Alice angrily. Tears that she had held back for hours began to slide down her cheeks. "I'm just so afraid that with all her talk about the end of the world and death and destruction, what if this time she's gone off to … to make it happen?"
The thought that his wife could be right flooded Emmet with worry, but he slipped back into his role of steadfast husband and father, and he placed a comforting hand on her shoulder. "Don't worry, she's just acting out. But I'll go look for her. Did you talk to Verna? Maybe Sophie knows where she is."
"No, she doesn't," replied Alice. "I've called Verna twice already. Caroline went over there after dinner, but Verna says that the girls had some kind of fight and Caroline left."
"You tried to call her, I guess."
"I've left so many messages. I don't know, maybe she isn't getting them. Verna thought that she might have gone looking for Jude Brannock. I think Caroline has some kind of hero worship for her, so maybe Verna's right. Supposedly she's staying at the Motor Inn." Alice suddenly stopped herself. "Oh, I can't believe I didn't think of that. I'll call them." From one of the kitchen drawers she dug out a dog-eared yellow pages. "What is it called … a motel, a hotel?"
"She's not there," said Emmet.
"Verna thought she was," said Alice, paging through the directory.
"Caroline isn't at the motel."
"I'll bet that's exactly where she went."
Unable to stave off the coming storm, Emmet said, "Trust me, Caroline isn't with Jude."
At his casual use of Jude's first name, Alice raised her head from the directory, confusion furrowing her brow. "How … how could you know that?"
The answer seemed to drop from his mouth of its own accord. "I was just there." He tried to avert his eyes, but the look of bewilderment then understanding and finally of betrayal in his wife's face held him prisoner.
"I see," said Alice, her voice barely audible. She let the directory slip from her fingers and went into the bedroom, closing the door quietly but with a finality that told him the hurt was too deep for any explanation … and he had none to offer.
*  *  *
A front had pushed the clouds eastward and cleared the skies, leaving a sickle blade of a moon slicing into the black night. Jude drew in next to the truck parked behind the gas station. No one got out of the truck at her arrival, but it did match the description Jack had given her – "a brown piece of shit with the rear bumper holding on by a thread." In fact, the bumper looked relatively secure, tied to the undercarriage with baling wire and duct tape.
The cab's passenger door opened and a hand reached out and beckoned. Jude slipped into the front seat and found herself next to Caroline. Jack was at the wheel, his ink-stained fingers balancing a can of Miller Lite.
Jude eyed Caroline cautiously. "Your folks know where you are?"
This elicited only a shrug and Jude let it go, unwilling to play social worker for the moment. She was more concerned with what Jack knew about Finn. "Where is he?"
"We're going to take you," he said.
"Why don't you just tell me," Jude urged.
Caroline interjected, "You'd never find it on your own, and you can't just waltz in there. Jack knows a back way."
"Is he all right?"
"Wish I could tell you," said Jack. "I don't know for sure he's even there. But I heard some things."
"Maybe we should call the police," suggested Jude. "Let them handle this."
The two teens shared a look. "I wouldn't advise that," said Jack. "Besides, I really don't want my name involved, nor do I want anyone with a badge even close to my truck."
It was then that Jude noticed the unmistakable aroma of marijuana that permeated the cab. "Christ, have you been smoking dope?" she asked, wondering how reliable Jack was.
"No," Caroline insisted.
"It sure smells like it," said Jude.
Jack waved her concern away. "It's old. So, you want us to help you or not? You can follow in your car, but once we get to where we're going, you have to do it my way. You don't know who you're dealing with."
Jude stayed close enough to Jack's truck to smell the exhaust as he wound through the rural roads leading away from town. Soon, he turned off and she bounced along after him on a rutted dirt road until it came to a sudden end. There were no houses anywhere in sight. Jack got out and stood peering through a thicket of pines.
As Jude walked up to join him, he asked, "Do you have a flashlight?"
"In the car." When she retrieved one that she kept for emergencies, he advised, "Use as little light as possible, and if you hear anything, turn it off and don't move."
Jude had to wonder where the hell they were going and only hoped that the two teens were overdramatizing the rescue plan. But she also remembered that Jack was a smart kid, and his abundance of caution gave her pause. He led them into the woods where the tall pines had laid down a carpeting of dried needles and deadened their footsteps. The landscape soon gave way to trickier footing with brambles grabbing at their lower legs. At the sound of a dog barking in the distance, Jack put out a hand. They listened for a moment until Jude shook her head; the pitch was too high to be Finn.
Slowly, the trio continued until they were at the edge of a clearing carved into a hill. Lights burned from the first floor of a gray split-level house at the top of the slope. A dirt driveway wound down from the front to a free-standing garage about a hundred yards below. Midway between the house and the garage was what appeared to be a small shed with a row of garbage cans hugging one wall. A young man wearing jeans and no shirt trudged up the steps to a covered porch at the front of the house where a wiry hound was chained. The dog strained against his collar, barking at the intruders only he could smell. The young man slapped his thigh in irritation. "Shut up, Hardy, or I'll leave you out here all night." The dog paid no attention.
A heavyset man carrying a 12-guage shotgun emerged to stand framed in the doorway. "What the hell is he making so much noise fer?" he groused.
"Beats me, Pop. He's caught the smell of somethin' out there."
"Coyotes, probably."
"Could be a raccoon sniffing around."
Suddenly, the hound stiffened and the fur on his neck stood up. He trotted to the far side of the porch as far as his tether would go and sniffed the air. When he began to bark again, the larger man unhooked him and dragged him inside by his collar. For good measure he kicked the dog in the haunches, causing him to yelp. "Git in thar," he thundered. Then Roy Mears came back out and stood next to his son, looking out over their property.
"I don't know, that's not his coyote bark," said the young man cautiously.
"Who cares what it is. Keep yer freakin' dog quiet 'cause I'm going back to bed. Don't think I won't shoot him along with the coyotes."
They went inside and closed the door; the lights went out. Jude released the breath she had been holding and met Jack's eyes. Now she understood his precautions, guessing that she wasn't the only one who had gotten on the wrong side of Roy Mears. At this moment it didn't matter if Mears was a dog thief – they were on the private property of a man who would undoubtedly shoot first and ask questions later. And in this stand-your-ground state, he was within his rights to do so. "How did you hear that he took Finn?" she whispered to Jack.
"Just around," replied Jack. "Somebody said Mears was bragging to folks about getting himself a new hunting dog that looked like a Rottweiler, so I figured it might be him." He touched her on the arm and murmured, "I'll be right back."
Before she could stop him, he had slunk off through the ferns and crabgrass at the edge of the clearing. Jude now regretted allowing the two teenagers to get involved; confirming her misgivings, she became aware of Caroline trembling next to her.
"Are you okay?" asked Jude softly.
"No," replied the girl in a small, quavering voice. "I'm afraid for Finn. Why did they take him? Was it because of the video Frank made?"
Jude turned her head sharply. "What do you know about that?" she whispered harshly.
Pulling her hoodie down over her head as if she could block out what she was thinking and feeling, Caroline began to sob. She could barely get the words out. "I have it."
"You what?"
"I have the video."
Caroline, the house, the night sky all faded into one crazy blur for a moment. Nothing was making sense. What was she doing with Frank's video? Had he given it to her? Why had she waited until now to say something? There was a rustle in the undergrowth and Jack dropped to his haunches next to them. "The garage is locked," he said breathlessly, "but I'll go around–"
"No," whispered Jude firmly. "Absolutely not. You guys are done, this is my show from here on out."
"You might need help," protested Jack. "What if Finn is in the house?"
"I don't think Mears would do that," said Jude. "He's already got a dog and they might not get along. He wouldn't risk a fight. Both of you go back now."
Jack began to protest, but Jude grabbed his arm. "No," she said into his ear. "Caroline's shaken up, you've got to get her out of here."
She seemed to have prevailed upon his protective nature, because after looking at Caroline's tearstained face, he agreed. He took her by the hand and they disappeared into the darkness.
Jude took a deep breath then crept along the edge of the tree line toward the garage. A familiar adrenaline began to shoot through her system. In her late teens, she'd joined an animal activist group that had put her through a training course designed for midnight entries into testing labs and fur farms. She didn't have the night goggles or tool belt with her now, but she remembered how to stick to the shadows and how to rely on her ears and nose … most important, she remembered to clear her mind of expected outcomes, keeping it open for any and all possibilities.
She dashed across the grass to the garage. Jack was right, the doors were padlocked. Jude put her head against the wood and made a low whistle that Finn would recognize. What came back was the most beautiful sound she ever heard – his soft, familiar whine. But it didn't come from the garage. It came from the shed.
Forgetting for a moment the danger they'd both be in if Mears heard, Jude sprinted to the shed. It, too, was padlocked. The doors rattled as Finn jumped up from the other side, his nails scrabbling on the wood trying to get to her. "Easy, Finn-boy, easy now," cooed Jude.
The house remained quiet and Jude moved around the perimeter, looking for some way to get him out. On one side was a paned window that faced the house. It was maybe thirty inches square. She peered through the glass, brushing away cobwebs, heavy with dead insects, but couldn't make out anything but Finn's dark shape. The ledge was level to her chest and she doubted that even if she were able to break the window without rousing Mears that Finn could jump through, not without a running start and not without getting cut by broken glass. Jude crept around the back, running her hands along the wood to feel for loose or rotting boards; maybe she could kick out an opening. As she rounded the next corner, she didn't see the galvanized garbage cans tucked against the side and her foot kicked one of them, loosening the lid and sending it into the other cans.
She froze and waited to see if anyone responded to the sound. Sure enough, a light on the second floor blinked on. Knowing she might have only a minute or two, Jude made a quick decision. She reached down for the garbage can lid to use as a battering ram to break the window. The first time, she made light contact, hoping the noise would scare Finn into the farther reaches of the shed, away from splintering glass. Then angling the edge like a Frisbee, she struck the window as hard as she could. On that blow, the glass shattered and sent shards flying. It sounded like an explosion in her ears. She swung the lid again. More glass broke, but the window casing and crossbars remained intact.
Inside the house, the hound began to bark furiously and all the lights went on. With renewed effort, Jude hit the window again. A piece of glass flew out and punctured the webbing of her hand. She cried out in pain and dropped the lid, while poor Finn mewled in terror inside the shed.
A flood light flared on the front lawn and Roy Mears appeared in the doorway, his shotgun ready. Jude reached down to pick up her battering ram. But her fingers were slick with blood, making it hard to grasp the only weapon she had. Panic set in when she realized she was running out of time and in the rush of fear, she fumbled the lid again.
Suddenly, Jack was beside her. He whipped off his t-shirt, wrapped it around his fist, and started punching at the remaining pieces of the window frame. Caroline appeared with a rock in her hand and the two of them knocked out chunks of wood and glass with each blow.
Then without warning, Mears fired. Two shotgun blasts, one right after the other. The sound was deafening and echoed off the hill. Jack grabbed Jude by the arm to pull her down to safety. A silver dollar-sized hole appeared near the roof of the shed. Jude didn't want to think about how big the exit hole was. But when she looked up, she saw that Jack had knocked out the last of the window.
Jude waved at the two teenagers, "Run! Now!" she yelled. Then she thrust her head into the window opening, finally seeing the light reflected in Finn's eyes. Terrified, he had backed himself into a corner. He'd been imprisoned in this dark, tiny space and now thought he was being attacked. "Come on, Finn, it's okay, it's okay," she coaxed breathlessly. He crouched lower, trembling. He didn't understand.
"Come on, Finn," Jude pleaded.
Jack tugged at her sleeve and shouted, "He's coming!"
"You go. I can't leave Finn!"
Mears had stepped down from the porch and was marching in their direction, inserting more slugs into the shotgun chamber.
Jude screamed at Jack and Caroline, "Go! Go!"
They ran.
Mears took two more steps, then raised his rifle and pointed it directly at her, barely forty yards away – kill range.
A shot rang out and Jude cringed, fully expecting this time to feel the blast. When she realized she had not been hit, she lifted her head. Mears wore a stunned expression and was staring at a spot just inches from his boots. Another shot ricocheted in the dirt, digging a crater even closer to his feet. He jumped back. Someone was shooting at Roy Mears and the shots were coming from the trees behind the house. He cursed and wheeled around to fire back.
In the erupting chaos, Jude turned back to the shed. And at that moment, as if he knew it was his last chance, with a courageous howl, Finn leapt up onto the window ledge and out to freedom.
Mears had forgotten about them. His face a mask of anger and confusion, he fired blindly into the trees. Jude ran for all she was worth with Finn at her heels.
Chapter 25
Richard Hillman pressed the phone to his ear to make sure he heard every word.
"I don't think he knew who was out there," Bloom was saying. "But he was for damn sure going to shoot somebody, and we need the Chapel girl alive."
"Think he'll call the sheriff's office?"
"Not if he doesn't want to explain why his property is all shot up."
Hillman tightened the sash on his bathrobe and walked over to the bar in his office to grab the decanter of Glenlivet Scotch. If his wife smelled it on his breath when he got back to bed, he'd take some heat for choosing whiskey over a glass of warm milk, but that was the least of his worries. He uncorked the decanter, noticing a slight tremor in his hand. He rationalized that at least he could report to Seldon that Brannock would most likely be on her way. It had been quite unpleasant informing the CEO that someone in Bragg Falls had taken her goddamn dog, because it meant that she wouldn't leave until she got it back. Goddamn rednecks would have screwed everything up. Boy, he just hated to involve Seldon in this kind of detail. Hillman took a large swallow of scotch. "Who is she again?"
"Name's Caroline Chapel. She's the daughter of a new supervisor at the plant. She's been trailing after Brannock for a while now, which is why I got to her phone."
"And what makes you think she has a copy of the tape?" asked Hillman.
"There's texts back and forth from her to Marino's daughter. They're arguing about 'the video' and the Chapel girl taking it. Marino's kid reminds her that it's the only copy and that it's her father's legacy."
Hillman rubbed his red eyes and asked, "Can you find the girl again?"
"Of course."
"Okay, get it."
"What do I do with her?"
"Whatever you have to."
"And Brannock?"
"I repeat. Whatever you have to."
The phone went dead and Hillman poured out another inch of scotch.
*  *  *
"Holy shit!" whooped Jack as they reached the cars. "What happened back there? Who was shooting at Roy Mears?" Out of breath and somewhat giddy, he reached into the glove compartment of his truck to retrieve a small bag of weed. With shaking hands, he rolled a sloppy joint.
"I wish I knew," said Jude, feeling a bit wobbly herself. She kneeled down next to Finn and felt along his back leg. As soon as they had gotten away from Mears and into the woods, she noticed that his limp was much worse. He was able to keep up, but now wouldn't put his back paw to the ground, obviously in pain. Still, he licked her face and pushed his muzzle into her neck while they reconnected, gratefully breathing in each other's warmth and scent.
"Oh my God, you're bleeding," Caroline told Jude.
Jude examined her hand, which had started to throb; the cut was deep and might need stitches. Jack handed her his bandana and she wrapped it around her hand. "Don't worry about me. Let's get Finn into the car. We can't stay here," she said to the teens. "I don't think Mears will come after us, but I'd just as soon not give him that opportunity."
After they helped her lift Finn into the cargo area, she embraced Jack and whispered, "Thank you. Finn thanks you, too." She could feel the heat of a blush against her cheek. "You should go home now. I'm taking Caroline with me. And for Pete's sake," she added, nodding to the joint in his hand, "don't get pulled over."
Back on the main road, neither she nor Caroline spoke for awhile, letting the shock of what had just happened dissipate. Then finally Jude turned to Caroline and said, "You had better tell me everything."
Caroline poured out her confession. It started weeks ago. Sophie had overheard her parents talking about houses in Florida and she knew her father was looking at rentals on his computer. Anxious that they would be separated if the Marinos moved, one night the girls decided to sneak a look. They found Frank's laptop and browsed his files. It wasn't long before they came across the video of D&M. What they saw was disgusting and shocking, yet they couldn't stop watching. Whenever the opportunity arose, they logged in again to see what he had added. It became a kind of ritual, but they never told anyone. It felt secret and dirty, like pornography. One afternoon when Caroline was angry at her dad, she convinced Sophie to make a copy on a DVD. But in the process, they messed up a setting on the computer and her dad found out. Frank was furious. He confronted Sophie and wanted to know if she'd been looking on his computer. When she admitted that she had seen the video, he made her promise she would never look again and would never say anything about it. Sophie felt so guilty she didn't reveal that she had, in fact, made a copy. Two days later her father was dead and she buried the disc in the jumble of her music collection. And then Jude appeared in Bragg Falls. Caroline thought they should give it to her, but Sophie refused – she had given her word and after her dad's death felt an even deeper obligation to keep the video secret. The arguments began.
"Where is it now?" asked Jude.
"Here," said Caroline, digging into her nylon bag. She withdrew an unmarked disc in a clear plastic case and handed it to Jude. Then, as though she had unloaded an unbearable weight, Caroline leaned her head against the back of the seat and pressed her dirty palms against her face. "Sophie's so pissed. She's been sending me mad texts all night. I shouldn't have taken it today, but … I don't know, I had to."
"Why?"
"I wanted to help you … and help the animals."
Jude drove in silence for a minute, unsure what to do. Finally, she said, "I'm taking you home."
"Please no," pleaded Caroline. "I don't want to see my father. I can't look at him now."
Jude guessed the source of her pain. "Your dad's in the video?"
"A couple of times. I knew right away it was him." Caroline's voice was heavy with sorrow, an echo of her father's just hours ago in Jude's hotel room. "What they do in there is horrible. It's so bad what they're doing to the animals. All this time, my dad working there, I never had any idea. There's one part where this man is kicking a pig, trying to make it get up. You can see it's trying somehow to escape, trying to crawl away, but it's hurt. And the man just keeps kicking it, over and over." She turned her head away from Jude. "I knew who he was, too. He came over to our house with his kids once for a barbeque. I thought he was a nice man."
You go dead inside was what Howard Bisbee had said. Jude thought of trying to reassure Caroline that the barbeque guest might have been a good person, yet inside the slaughterhouse he became someone else. But she wasn't quite sure she could square the two, much less explain to this child whose world had been upended by what she had witnessed.
"Please don't make me go home tonight," begged Caroline.
And Jude didn't.
Chapter 26
Well past midnight at the Kings Court park, the trailers looked like rows of shipping containers in the dark. No sounds came from within and even the loose dogs were asleep. Shavings of light appeared at the bottom of the drawn shades at the Vargas trailer, however, where Abelina scurried around in her robe, gathering gauze and antibiotic cream for the wound on Jude's hand. Her medical training was well-known at the trailer park, particularly since so many of the workers were loathe to report their injuries in case they were instructed not to come to work. And like them, Jude counted not only on Abelina's nursing skills, but her discretion. She gritted her teeth as she received her five stitches. Finn lay on the floor of the miniature kitchen. Abelina didn't think his leg was broken, but suggested Jude take him to a vet in the morning. For now, he was quiet, his eyes following Abelina and checking every once in a while to make sure Jude was near. Caroline had crashed on a cot set up in the sitting area; Daniel was somewhere in the neighborhood trying to drum up a computer so Jude could watch the video.
When Abelina was done, Jude called the Chapel home and Emmet picked up. "She's fine, Emmet," said Jude. "But she doesn't want to come home just yet."
"Where was she?" he asked, keeping his voice low so as not to wake his wife.
"She'll tell you," said Jude simply.
"I'll come over and get her."
"No, don't, she's asleep. I'm leaving in the morning. I'll bring her home on the way."
They listened to each other breathe for a moment. While the memory of their earlier intimacy whispered over the line, so did the guilt. Finally Jude said, "Goodbye, Emmet."
Thirty minutes later, she sat by herself at the dinette table and opened the laptop Daniel borrowed from his cousin. He and Abelina had retired to get a few hours sleep before they had to take the baby to a neighbor, then leave for their D&M shifts. Finn was sleeping at her feet, exhausted after his ordeal, his breathing now deep and even. Jude took the disc from its case and examined it, wondering that something so small could have caused so much misery. She inserted it into the drive and waited for the first images to come up.
The picture quality was terrible at first – jerky and often focused a foot or two below what Frank was trying to photograph. Jude guessed that the camera lens had been hidden in a shirt button, and his inexperience was evident in the erratic footage. But he got better as he went along. About two minutes into the video, the stories came alive.
A crew is herding a truckload of hogs into one of the lairage pens. Here's a mound of pig carcasses – the ones who did not survive transport dumped like so much garbage in a heap. Hundreds of flies buzz around them. Two of the pigs are still kicking, one of them at the bottom of the pile. Date stamped: September 9th.
It's now inside the slaughterhouse. Jude can almost feel the oppressive heat and the damp, foul air close in around her. Two workers run by. A pig is bucking and fighting in the chute. Behind him, traffic is at a standstill and the men are frantic to get it moving, first using an electric prod, then beating it with pipes. The pig collapses on the floor. A white-helmeted worker appears with a large metal hook and he hammers it through the animal's mouth and drags the hog into the stun area. The stunner finally silences the hog's screams. Date stamped: September 13th.
A pig drops onto the shackling table. With a practiced, fluid motion, the shackler reaches up to the moving rail and pulls down a chain with an alloy hook at the end. Once shackled, the pig is hoisted by its leg and pulled forward. The camera stays on the animal as it begins to come alive. It lifts its head and writhes on the rail until it gets to the sticker, who lunges with his knife. The pig continues to buck as blood pours from its throat. Date stamped: September 14th.
A man has fallen and is scrambling backwards away from the rail, cursing and holding his side. Workers stop what they're doing to look. A figure appears waving his hands in the air and yelling. Keep it going. You, yeah you – get in and replace him – keep it going! The figure turns his face toward the camera. His expression is not of anger, but of fear. He has a thick, white scar running from his cheekbone up into the dark recesses of his helmet. Date stamped: September 21st.
Jude's mouth ran dry as more played out. She fast-forwarded through much of the footage. Hundreds of hogs thundered by, some with open, infected wounds, broken legs, ears or tails chewed off – signs of having been cannibalized in the factory farms. Animal excrement splashed on the tile walls. Men and women with grim faces, blood-soaked up to their elbows, flashing knives. Conscious hogs going up on the chain. Writhing, squealing. Hogs dumped into the scalding tank, some struggling to get out. Of course Jude knew that the industry accepted that a certain percentage of animals would be shackled and bled out while fully conscious, industry standards deemed it acceptable that a certain number went into the scalding tank alive. At D&M it was relentless.
As suddenly as the images had started, the screen went black and it was over. Jude would have stopped the tape and removed the disc, but still in shock, she just sat there. Soon she became aware of muffled sounds and the flickering of dark shadows on the screen. It wasn't over. Heavy breathing and grunting. Was it Frank? If so, he was laboring. He cursed under his breath, his footsteps shuffled on the ground. And then men's voices, dim at first, but getting louder, echoing as if from far away.
She's a beauty. I gotta admit, I'm jealous.
Another man said, It's got Smart Phone Integration with a roof-mounted antenna that gives you great reception, even when you're out here in the sticks. And this BMW has great re-sale potential if you want to trade it in.
How much?
Fully loaded … about seventy-five grand. Hey, it's not out of reach. I was just where you are a few years ago. There's a place for you in corporate, Bob. And it could be sooner rather than later.
Oh yeah?
Listen, I'm going to be spending less of my time in Raleigh and a lot more talking with the folks in Washington. That's where the money is. And once you get in the door to a couple of House members, you can add a lot of value. I'm not saying you'd come into my spot, per se. But there's a regional management job opening up, and that's the first step. I can put you on that list, and I think Seldon would consider you.
Thanks, Ned. Appreciate that.
Squeezing her eyes shut, Jude tried to picture the speakers. "Bob" had to be Bob Warshauer, the plant manager, but who was "Ned?" And then she remembered what Frank had told her about recording a conversation between Warshauer and a rising VP in the corporation. Had to be Ned Bannerman, Marshfield's favored son.
Hey, Bob, we need to talk. Shut the door, okay? Jude leaned in to hear better. How many head you turning?
A little more than five hundred an hour.
Yeah, I know. Not enough. We've got three other plants with the same equipment and they're outpacing you.
Warshauer's reply was offered up almost as an apology. We've tried speeding it up in the last few months, but the workers can't keep up. They quit, they get hurt.
Train 'em better.
We're always training, but the turnover means I got new people on the line every day. Half of them don't speak English and the other half don't give a crap. You know I can't risk a recall. When we pick up the speed, we have to prod every hog, they get jumpy, don't get stunned right, and more of 'em go up live on the bleed rail. That turns into high injury rates on the floor. I don't need OSHA breathing down my neck.
You running out of folks looking for work?
No, but–
Hey, everybody's in the same boat. You just gotta take the heat. Who's heading up your USDA inspectors? Bannerman was asking.
Patrick LaBrie, and Frank Cimino's the vet in charge.
You on good terms with them?
Yeah, pretty good. It's give and take.
So there's no problem. Look, I know those guys, they're team players. They used to work over at the Rock Hill facility. You're lucky to have them here. You just worry about the end product, hear? The animals are not talking.
Jude caught herself holding her breath.
Let me lay it out for you, Bannerman was saying. At forty-six hundred hogs per shift, you'll be in Bragg Falls a long time. At forty-eight … forty-nine, you've got a ticket to Raleigh.
That's … that's close to a hog every six seconds. Jude could almost see the sweat pouring down Warshauer's face.
What can I tell you? That extra five percent is where we beat the competition, it's how we keep the big supermarket chains, and it's how you build your resume. There's only one manager getting that regional job and I'd like it to be you. But you got to give me the numbers. You need one good year.
Yeah, well … I suppose I can pump up the tally again, but the animals … the workers …
Then do it. Like I said, the hogs ain't talkin' and neither are your illegals. You know the margins we work on in this business, it's all about line speed. But there's some things we can't put on paper, which is why I'm here today. Seldon wants me to personally explain to each manager just what it takes so we're on the same page. This is coming straight from Seldon. Line speed, Bob. Line speed.
The voices faded, but Jude had heard all she needed. She pulled out the disc with trembling fingers and immediately secured it deep inside her jacket pocket. Here was proof that at the highest levels Marshfield Industries not only knew about the horrific abuse to the animals and the danger posed to the employees because of the breakneck line speed, they wanted to make it run even faster. This last is what Frank meant when he told her he had recorded "dynamite" – and it's probably what had gotten him killed.
Jude heard a sound just outside the trailer and startled. She didn't think she'd been followed, but she was still on edge. Whoever had been shooting at Roy Mears was a big unknown. He may have saved her life and she didn't know why, but it didn't feel like an altogether well-meaning gesture. She pulled aside the trailer's homemade curtain and peered through the window. In the pre-dawn light there was only a feral cat slinking around the corner. She let the curtain fall back and nervously checked the time. Too early to call Gordon. He'd want to orchestrate the release of the video to the media, then prepare for the swift and aggressive corporate response. Marshfield would, of course, claim it was all fabricated by animal rights extremists, but the more they protested, the more they'd draw attention to the issue. Gordon knew a reporter at CNN who would broadcast portions of the video. It would get picked up on Facebook, YouTube, Twitter. Many people wouldn't want to look, wouldn't want to know. But enough would. Change was going to come.