We're sure that by now, all of you darling flock members are just as addicted to reading Robin Lamont's The Chain as we are. Did you catch her squawking about it on the OHH podcast and TV show? Robin is generous enough to be sharing the entire novel with you installments. Not only is it a well-written story that keeps readers on the edge of their seats, but it is also centered around animal rights themes. 
Here are the previous installments in case any of you darling flock members have missed any: #PRIVATE#
Chapters 1-3
Chapters 4-6
Chapters 7-9
Chapters 10-13
Chapters 14-16
Chapters 17-19
Chapters 20-23
Chapters 24-26
Now without further ado, here are chapters 27-end!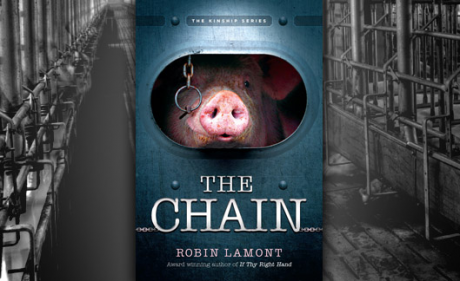 The Chain (cont.)
Chapter 27
Jude drove slowly up the circular driveway and stopped in front of the high school entrance. "Your mom knows I'm dropping you off at school, right?"
"I told her. She's still peeved about last night, so this will give her a little time to cool off."
"You want to call her again?"
"Can't, my battery died. Stupid phone – I just charged it yesterday. But I did call her. Abelina let me use her phone before we left." She reached around to stroke Finn under the chin. "He'll be fine, won't he?"
"I'm going to get him checked out before I head on back. He's pretty sturdy." Jude tried to sound reassuring, but she was worried. Finn was limping badly this morning. "Say, do you, uh, need a note or something? I mean, for being late?"
Caroline smiled – an actual smile that created a dimple in her right cheek. "I think it has to be from a parent or a doctor," she said. "But it would be cool to see what the attendance office thought of a note from an animal rights terrorist."
"Good point," Jude grinned back.
There was an awkward moment as they struggled with how to say their goodbyes. Caroline postponed it by offering, "I've gone vegan, you know."
"Really?"
"Yeah, I've been doing some research on the web and learning about all the foods that come from animals and vegan alternatives and stuff."
"Good for you. How do your folks feel about it?"
Caroline shrugged. "They think it's a phase. But I know it's not. I don't want to be a part of all that." She nodded in the direction of the plant. "Anyway, I can cook for myself."
With only a few hours sleep, there were smoky circles under the girl's eyes, but there was an energy emanating from her that Jude hadn't seen before. She felt an overwhelming desire to protect Caroline from the difficulties she would face in a world that too often equated being a vegan with being an extremist. But the second period bell rang from inside the building, marking the time for a wordless farewell hug.
An x-ray of Finn's back leg revealed no fractures. The local vet diagnosed a severe sprain of his already weakened hip, then treated a few cuts on the pads of his feet. At one point he glanced over to Jude's own bandaged hand, but refrained from asking any questions. She left feeling much relieved and with a prescription for Finn of rest and an aspirin every twelve hours. She called in to Gordon and checked out of the motel. Then, after making Finn comfortable in the back of the Subaru, she was finally heading home.
On her way, Jude drove down Main Street, passing the corner Gulf station, the Hardware & Feed Store, and the rickety building that housed the Chronicle. The hard corners of the DVD's plastic case in her pocket poked into her ribcage and made it impossible not to think about the effect the video might have on these businesses and the people who worked there – to Emmet and Caroline, Howard Bisbee, and all the other workers and their families dependent on a vast profit-driven industry that keeps upping the ante on the backs of helpless animals and desperate workers. Whatever the impact, Jude knew it was right to release this new evidence, proof of Marshfield's moral corruption. As it was, going up against the meat industry's money, power and political influence was like David fighting Goliath. Now finally, she had a weapon worthy of the battlefield, and she knew that she ought to feel good. Still, something weighed heavily on her and she couldn't put her finger on it.
"Hi, CJ." Jude put her phone on speaker as she drove.
"Where are you?" he wanted to know. "What's going on?"
"I'm on my way back."
"How's Finn?"
"He's going to be fine, but he's not walking too well. Just have to keep him quiet for a few days."
"We'll take good care of him here. Hey, Gordon filled us in this morning. You've got the video. That's huge."
"Yeah, it's going to change the dialogue, guaranteed."
"Mmn, your words are saying one thing, your voice is telling me something else. Are you alright?" asked CJ.
"I keep thinking about what happened at the house where we rescued Finn. Did Gordon tell you about that?"
"He said someone stopped that guy Mears from shooting you, so I see that as a positive."
"But I can't put it together. I was under the impression that the folks in Bragg Falls would've been just as happy if Mears did shoot me. Someone prevented him from doing that, which meant they must have followed me there, and I'm usually better at spotting a tail. I feel like there's this great big puzzle surrounding Frank and the tape, and I'm just a small piece in it."
After a moment, CJ said, "What if … this protective shadow wasn't looking out for you, but for Caroline or Jack?"
"But nobody knew they were there."
"Nobody except for whoever it was that showed up and kept Mears from killing you all."
"I don't understand."
But the answer came to Jude just as CJ voiced it. "Didn't Caroline have the video? Maybe they knew that and didn't want anything to happen to her."
"Until they got their hands on it," finished Jude.
"It's a theory."
"But … but how could they know she had the tape? She and Sophie were very secretive, and Caroline didn't have it in her hands until yesterday."
"Could have bugged her house or phone, I guess."
The pieces of the puzzle began to fly together. "Oh, God," Jude said aloud. "Caroline told me earlier that she couldn't call home because her phone had run out of battery. For a teenage girl that's pretty unlikely, isn't it? And I remember that the first time I met Verna, she was distraught over the fact that she'd tried to reach Frank the night he died, but she couldn't get through because she said his phone was always running out of battery … CJ, are you still there?"
"I'm here," he said, his voice unusually somber.
"Do you think they bugged Frank's phone?" asked Jude, already knowing the answer.
CJ was a step ahead of her. "Spyware on a phone drains the battery real quick," he prefaced. "They could have gotten to Frank's phone in his locker or taken it from his car while he was at work. Spyware is easy enough to put on."
"And they'd be able to listen in on his calls?" asked Jude.
"Are you kidding?" snorted CJ. "Listen to his calls, track the numbers he dialed, pinpoint his location on GPS, read his texts. Hell, with the right equipment, they could send him phony texts."
"That's how they knew." Jude's eyes were watching the road, but in her mind, she was visualizing the dark forces of Marshfield's damage control suiting up for battle. "Somebody at the plant reported seeing Frank with a camera and they bugged his phone. That's how they knew he'd made the tape and contacted us. And they were listening when Frank told me he'd recorded a conversation between Warshauer and Bannerman … one that implicated Seldon Marshfield." The next conclusion was painful to voice. "They would've known when I was coming down to meet Frank, and they got rid of him before I could get here."
"Jesus," muttered CJ. "And you're saying that Caroline's phone has been acting up as well? Why would they tag her phone?"
"I'm not sure," Jude responded. "Maybe they had the whole Marino family bugged. Maybe they got to Caroline because of her friendship with me. They've got plenty of resources to cast a wide net. Of course, it's so bloody ironic because Frank didn't make a copy – it was the girls who did it on the sly."
The connection Jude made next made her stomach heave. If Marshfield was reading Caroline's cell phone texts, then the last thing they'd seen before her battery ran down was that she had the video. Sophie's so pissed. She's been sending me mad texts all night. I shouldn't have taken it today, but I had to.
The entrance to the highway lay ahead. "I gotta go," said Jude. She tossed her cell phone on the seat next to her and hauled on the steering wheel to make the u-turn.
Chapter 28
As Jude raced back toward Bragg Falls, self-recrimination rolled over her in waves. So much she had missed. True, she couldn't have foreseen that two teenage girls would make a copy of Frank's video, but she should have seen beyond Caroline's infatuation … following her to the ridge at D&M, inviting her to dinner where she'd probably planned to say something about the video. Caroline had been trying to connect for a reason and Jude missed it. Just as negligent, she had underestimated Marshfield. Did she really think they wouldn't search under every rock, in every corner and on every cell phone until they were satisfied that no copy existed? She'd been so focused on what the video meant to the animal movement that she missed what it meant to Marshfield. So filled with hope about shining a light on the company's abusive practices that she missed their laser beam trained on a girl who only wanted to help – a girl who had risked her life to rescue Finn.
It seemed obvious now that the "protective shadow," as CJ had referred to him, was there to safeguard Caroline from Roy Mears. He needed her alive to lead him to the videotape she had taken from Sophie. Jude had little doubt that he would find her again – and quickly. What he would do when he found her, Jude didn't know.
She had to get to Caroline first.
The high school was just letting out. Jude tried to position herself where she could see the crowd of teenagers pouring out of the building and onto the yellow buses lined up around the circular driveway. She craned her neck looking for Caroline's gangly gait. One by one, the buses loaded up and pulled away, and the stream of students diminished to a trickle. Where was she?
She spotted Sophie emerge and walk purposefully toward the last bus, which started its engine as she approached. Jude hurried over, meeting Sophie at the steps of the bus.
"Do you know where Caroline is?" asked Jude hurriedly.
Sophie's eyes widened in surprise and she shook her head no.
Jude's heart began to flutter in panic. "She was in school though, right?"
"Uh, yeah."
"I need to find her. Is she still inside?"
"No, she left."
Jude grabbed Sophie by the shoulders. "Where did she go?"
"She went running."
"Running?"
"Yeah, she was going on her long run … to clear her head."
"Where?"
"In the park somewhere." Sophie lifted her eyes to the hill that rose up behind the football field.
"When?" cried Jude. "When did she leave?"
"Right after class. A few minutes ago."
The bus driver called to Sophie; she was holding everybody up. Jude let her go.
She knew where Caroline was headed and could only hope that she could find the trail again – the trail that led to a spot high up where a troubled young girl could clear her head, to a place that was clean and pure.
Jude dashed back to the car and drove it around to the parking lot next to the football field where a group of boys were suiting up with shoulder pads, readying themselves for practice. One stood apart from the others, balancing himself on crutches and joking around with his fellow teammates. Jude trotted up to him.
"I'll pay you twenty dollars to keep an eye on my dog," she said breathlessly. Finn could not be with her, not now. He would try to keep up with her and might hurt himself further. Not this time. "He can stay in the car over there. Just make sure no one lets him out."
The kid didn't have to be asked twice. "Sure," he said, pointing to the cast on his leg, "I'm not goin' anywhere."
Jude dug in her wallet for the cash. She cracked the windows and locked the car. "Is there a trail that goes up into the park from here?" she asked, pressing the money into the boy's hand.
"The track team uses one that starts behind that goalpost."
"Okay, thanks."
"Say, listen," he said. "Practice goes 'til six. You'll be back by then?"
Jude mumbled an affirmative answer, but she was already running.
The path was wide and climbed slowly, and keeping up a steady trot wasn't difficult. Then Jude came to a fork where a narrower trail continued to ascend. Yellow circles painted on the trees marked it as the one that led to the ridge where Jude had first met Caroline. Without hesitation, Jude continued the climb.
Quickly the terrain changed. Exposed roots and mossy rocks littered the path, forcing Jude to slow her pace or risk a sprained ankle. In a matter of minutes, she was breathing hard and sweating underneath her jacket. But she pushed forward. Before long, she found herself trudging along the side of a ridge where gunmetal sky and glimpses of hilltops came into view. And up ahead the ground opened up to a familiar scenic overlook.
Caroline was standing on a slab of rock, framed by the distant hills, charcoal blue in the late afternoon haze. But in the clearing between them stood a man with his back to Jude. He and Caroline appeared to be in the middle of an argument, because Caroline's face was red with anger. "Who the fuck are you?" she demanded brashly.
He answered her softly, evenly, and Jude couldn't quite hear what he said. But she knew why he was there. "Let her go," she called out. "I have what you want."
He whipped around, pointing a gun at her chest. Behind the non-descript, pleasant features, he assessed her with the calculating gaze of someone who wouldn't think twice about killing her and a meddling teenage girl. There was no doubt in Jude's mind that he worked for Marshfield and that there would never be any proof of that.
"Look who's here," he said with the barest of smiles.
"She doesn't have the video," announced Jude. "She gave it to me."
Bloom swiveled his head between the two, then motioned Jude with the barrel of his gun over to where Caroline stood.
As Jude cautiously complied, she held up her hands and said, "I'm not armed as I'm sure you know. I'm going to hand it over nice and slow." She pulled out the disc from her pocket and held it out to him.
"No!" cried Caroline.
Later, Jude recalled hearing defiance in her voice, but in the moment she thought it was a cry of despair at being forced to concede. And perhaps the man heard the same thing because he lowered his gun. In that instant Caroline snatched the disc from Jude's hand and darted to the edge of the cliff. She scrambled over the wooden railing and positioned herself on the narrow, rocky ledge of the precipice, holding out her arms for balance.
"You're not getting this," she threatened, raising the disc aloft. "If you come near me, I'll jump."
Bloom stopped in his tracks and a flicker of uncertainty passed over his face. In it Jude saw his dilemma. If Caroline took the disc over the edge, it might well withstand the fall, even if the girl didn't. But with cops combing the hillside for her body, he could scarcely stick around to try and find it.
Jude reached out her hand. "Caroline, please don't," she implored.
"No. You need it. You need it … to help the animals."
"Don't do it, Caroline."
"I don't care. I don't want to live in a world that treats animals so badly." She began to sob. "You'll be able to show people…"
"I understand, but–"
"They're just innocent animals. And they're suffering so much." Caroline's foot slipped on a loose piece of gravel and she lurched, but managed to right herself again.
Jude's heart was pounding. The slightest movement might startle the girl off balance again – even more frightening, she might say the wrong thing and it would only strengthen Caroline's resolve to jump. So many times Jude herself felt that she was teetering on the edge of reason – times that she bore witness to so much agony that the world seemed insane for not seeing it as well, and she didn't know where or how she could fit in. Words of reassurance and hope had never been enough. Maybe the only lifeline for Caroline was the truth, something her family and community had tried to shield her from.
"Then help them," said Jude. "Stay alive and help them."
"How? No one's listening!" screamed Caroline.
"I am. I'm listening. And others will, too. But it will take more than one video. We have to keep fighting and we need your help. We have to reach people even when they don't want to listen. When they toss your leaflets on the ground, you have to pick them up and hand them to the next person. You protest and boycott, and when the corporations shut you down, you fight harder. You investigate, you expose, you educate. Sometimes I stay awake at night thinking about all the suffering animals bred and raised just to be slaughtered, and sometimes it makes me feel like things will never change. But I wake up and do it all again the next day. It's hard work, Caroline. And there aren't many of us, which is why we need you."
Caroline's body stiffened, but in her eyes Jude saw the emergence of a new light – a spark of understanding.
Jude reached out her hand again, urging her back into the world. "There is no other choice," she said. "You don't get to surrender!"
With a final look over her shoulder, Caroline turned back and ready to come forward from her precarious perch, she held out the video to Jude.
But neither of them had seen Bloom inch ever so slowly forward. And finally, when he was close enough, he leapt toward Caroline and seized the video from her outstretched hand. His sudden movement so startled her that she put up both hands in an instinctive reaction and lost her balance. Her arms flailed and she grasped at the railing. At one time it might have held, but on such an untraveled path, no ranger had bothered to climb up and replace the rotting boards. Now, too weak to support her, the railing gave way with a sickening crack. She went over the edge with an anguished howl.
Jude could have sworn she saw Marshfield's man make a stab to keep her from falling, but it all happened so fast. As Jude rushed forward, hearing her own scream echoing that of Caroline's, Bloom turned and punched her hard across the side of the face. Everything turned to dizzying pinpoints of light, then went black before she hit the ground.
Chapter 29
The nurse screeched the dividing curtain closed, leaving Jude alone in the cubicle at last. Between the x-rays, nurses, hospital administrators, and the Sheriff's people, she hadn't had a moment to herself. She reached up to touch the painful lump at her temple where Bloom's fist had landed. Her entire head throbbed, but she had gotten off lucky. More importantly, she was able to say the same thing about Caroline who, all in all, was fortunate to be alive.
Jude didn't know how long she'd been unconscious, maybe a few minutes, maybe half an hour. Slowly she became aware of the pain in her head, the uneven, frozen ground digging into her back, and the sound of a lone hawk, cawing, circling above her. Then she remembered and forced herself upright. She staggered to the spot where Caroline had fallen. The plunge appeared perilously steep, but Jude located a path that wound down from the summit among bushes and small trees that grew out of the rocky slope. They had prevented Caroline's fall from being fatal. Jude scrambled down, slipping and sliding, hanging on to anything she could to keep from tumbling to the bottom, until she found Caroline. Scrapes and scratches criss-crossed her legs and face, and one arm was a twisted mess underneath her. But very much alive and dimly conscious, she began to weep when she saw Jude.
It took nearly forty minutes for the paramedics to get her out by helicopter.  Because she had to get back to Finn, Jude declined the air lift and walked back with two deputies. The next couple of hours were a blur of questions. Grady Ward had come to the emergency room while Jude was waiting to be tended. She had misjudged him. He was still a cop with a job to do, but his underlying gentleness moved her. He shared what information he had, which wasn't much. Based on the description Jude had given, a statewide bulletin of the person she insisted on referring to as "Marshfield's man" had been broadcast, airports and train stations monitored, but so far there had been no sighting. Jude didn't think there would be.
She went over and over the events of the past several days, sticking with her unwavering belief that the man was an operative for the giant meat company and that he had come to Bragg Falls to get Frank's video. But she had no hard evidence to connect him to the corporation or to Frank's death, and Marshfield's legal team was denying any knowledge of the whole affair. Indeed, they wanted to help, even offering a monetary reward for the capture of the man who had allegedly terrorized a child of one of their employees. Still, one of the lawyers had not so subtly previewed their case, already having learned that the young witness was on medication and seeing a psychiatrist – clearly psychologically unstable "before this terrible tragedy."
"Can I see her?" Jude asked Ward.
He shook his head. "She's in surgery," he advised.
Jude was finally cleared to leave. She walked through the sitting area of the ER, where sickness and worry filled the chairs. Several people were waiting to be admitted and others glanced up, anxiously hoping for news about a loved one. They looked as hopeless and lost as Jude felt. As she went through the swinging doors to the outside, she crossed paths with Alice Chapel. The two women locked gazes. Alice turned her head sharply away, but not before Jude caught the full brunt of the accusation in her eyes. It hurt worse than the throbbing ache in her head and sent her blindly out into the early dusk.
She'd declined Ward's offer to have one of his deputies take her back to Bragg Falls where Finn was staying with an animal control officer and insisted she could take a cab. But rather than waiting at the hospital entrance, she went across the street to a small municipal park, quite empty since it was only meant as ornamental landscaping. There she found a bench to sit down. She pulled her knees up to her chest and let the tears come. This failure felt so much worse than anything she had known before. A young girl badly hurt. Almost killed. Probably no way of finding who had terrorized them and in all likelihood killed Frank Marino. And now, of course, she had no ammunition against Marshfield, no way to stop what was going on at D&M – a place so dark that even God's grace could not find a way in, or so Verna Marino believed. Was that the definition of hell, Jude wondered?
"Jude."
She looked up to see Emmet standing in front of her. For a moment, she thought he had come to offer comfort, but his face was ravaged with anger. "Why don't you just get the fuck away from here," he burst out.
Brushing her cheeks dry, Jude said, "I'm sorry. I never meant for this to happen."
"You've brought nothing good. Nothing but hurt. You and your high-minded ideals."
"Emmet, I never meant–"
"Frank Marino died because of you."
"That's not fair, Emmet. I never asked him to make a video."
"You encouraged him. Made him feel like he was making such a great moral sacrifice. All you people want to do is pursue your animal agenda and to hell with the rest of us. And now my little girl is lying up there, all broken to bits. That maniac didn't want her. He wanted you. Goddamn it, he should have pushed you off the cliff instead of her!"
Jude jumped up. "Is that what you think happened?"
He didn't answer.
"For your information, he did not push Caroline off. I think he … he might have tried to catch her, but she was the one who climbed onto that ledge. She threatened to jump." The color left his cheeks. "She didn't want to give it to him. She threatened to take the disc to the bottom with her."
"What? What the hell are you talking about?"
"The disc … the video." Jude then realized that the police hadn't yet told him. "The girls found Frank's video weeks ago. They made a copy."
"I … don't understand. Caroline saw all that footage?" Somehow that seemed as frightening to him as the thought of her devastating fall.
"Yeah, Emmet, she did." Jude's bottled up frustration and anger erupted. "You don't get it, do you? All you see is standard industry procedure and the paycheck that comes with it, just like all you see is what your daughter is supposed to look like. Caroline and Sophie found Frank's video, and what they saw in the slaughterhouse terrified them. It would any kid. And how could Caroline come to you? How could she even tell you? You're a part of it … more than a part, you're in the driver's seat." Jude couldn't help herself, even recognizing that she was digging the hole in Emmet's heart a little deeper with each accusation. "She saw a man beating a pig to death on the floor – the same man who had come to your house for a barbeque … like it's all normal, like torturing and killing animals is just part of everyday life.
"She saw you in the video, Emmet. She was horrified. And when she cuts off her hair and suddenly breaks all your rules – a way of telling you how confused she is, you want to squeeze her back into a restraining device. When she tries to tell you how painful it is, you put her on drugs because you can't stand to hear the screams. And when she fights back, you punish her, just like you punish all the hogs who won't willingly march to their death. Is it any wonder she feels like one of them?"
Emmet buried his head in his hands and an agonized groan escaped from deep in his chest. She didn't regret lashing out at him, but unable to bear any more pain, Jude turned and walked away.
*  *  *
Emmet perched at the edge of a metal chair in the dimly lit room where his daughter lay. Her eyes were closed and she was still, but the silent drip of the IV and the pulsing green lines on the machine next to the bed were life-affirming. He pulled close to the side of the bed and gently held her hand. The pain killer was sending her in and out of a hazy, tormented sleep. Emmet waited, listening to the sounds of the busy corridor outside her room.
"Daddy?" Her eyelids fluttered.
"I'm here, honey," he said, pulling his chair closer.
She croaked, "Daddy, I'm sorry."
Emmet reached up and began to stroke the hair from her face, careful not to catch his rough fingers on her multiple earrings. "No, no, you have nothing to be sorry about, honey," he said softly. "It's me who's sorry."
"Dad?" Her voice sounded far away. "Will you be angry if I tell you something?"
"Of course not."
"I want to fight for the animals. I want to do what Jude is doing." She seemed to drift off again.
"Okay, okay, honey. You rest," he hushed. "I'll be here."
As her breathing deepened, Emmet leaned his forehead on the cool sheets by her outstretched arm and prayed for the first time since he had intoned the Lord's Prayer at Frank's gravesite. But the words came out in a prayer of gratitude not to God but to his daughter. "Thank you, Caroline," whispered. "Thank you for staying alive … thank you for having the will to live. You can fight for the animals, you can be a vegetarian, you can be anything you want. Just give me another chance. I'll make it up to you, I swear."
Before he lifted his head, he knew what he had to do.
Chapter 30
The last transport of the morning had finished unloading. Crammed into the lairage pen, the sows were coated in layers of dirt and manure; they jostled against one another, trying to break free, but had no place to go. Emmet stepped out into the yard to oversee this next group going through. Even with all the activity, the yard seemed almost quiet without Crank. There was a new man in his place. Emmet called out a few unnecessary instructions; the line was moving well. Lately, there seemed to be many more breeding sows coming through. Emmet had heard it was part of a culling program to keep industry prices up. This group didn't look very healthy, though. They were worn out, many with open wounds from rubbing against the bars of their crates. But they weren't fighting and that made everyone's job easier. Fitting his earplugs back in, he returned to the kill floor.
Things weren't going quite as smoothly inside. They were down a sticker and Howard Bisbee had to fill in. The hesitant Hispanic stunner replacing Tim Vernon had learned the routine, but didn't have the malicious confidence of his predecessor. Emmet thought his name was José, but couldn't be sure. He took a moment to see if the kid had improved his technique. José had a split second to adjust the handles of the stunning device, twisting them to just the right angle. The next sow came through the chute, its body squeezed between the panels, its legs dangling helplessly. José held the tongs on either side of the pig's head. Zzzp! The pig went down. Six seconds later another one came through. Zzzp! Same result. One by one they dropped onto the wide shackle table for the next step in the dis-assembly line. Every third or fourth animal, however, José didn't manage to get the stunner in the proper position, with no time to get the tongs placed just right for a good stun. When that happened, the hog would buck and thrash, and the young stunner would go in for another jolt, hitting it again, and sometimes a third time.
This wasn't good. Emmet hollered at him to do a better job and trotted down to where the shacklers were working. There were already two sows in the pit below the table. If a hog wasn't stunned properly, they were supposed to let it hit the floor; someone else had to come with a portable machine and re-stun it. When the shackler saw Emmet, he re-doubled his efforts, knowing that if there were too many in the pit, his supervisor would write him up. Under pressure, however, the shackler hoisted two sows that showed signs of consciousness.
The chain was moving faster than ever. Each man at his station worked feverishly, hands, feet, moving all the time. To Emmet they looked like dull-eyed pieces of a single engine – all part of the chain that turned animals into meat and men into soulless cogs in an unstoppable machine.
Suddenly, he heard shouting down the line. Emmet raced over and saw Howard Bisbee on his knees, his face contorted in a grimace. A sow had struck out with her hoof and kicked him as she went by. While a couple of workers pulled Bisbee back, Emmet followed the sow. Blood gushed from her neck, but she was still bucking and swaying on the rail, trying to lift her head. She squealed in terror. Emmet had to make a quick decision. Bisbee had already missed two more. And they just kept coming.
Emmet leaned down and grabbed the knife from Bisbee's hand. He chased down the sow, now writhing so violently on the chain she had dislocated her shackled leg. Just as he positioned the knife, she lifted her head and looked directly at him. Her dark, liquid eyes were filled with such sadness and pleading, he almost couldn't do it. "Forgive me," he whispered, then plunged the knife in her throat, feeling the last of him break.
The sow went into a final spasm and swung away. Emmet dropped the knife on the floor and lurched over to the red emergency button on the wall behind him. He slammed his palm, slick with the sow's blood, against it. Three blasts from an alarm sounded throughout the building and before the last one faded, the rail had screeched to a halt. In the absence of its incessant noise came the sounds of bellowing hogs, the hissing of the scalding tank, and workers calling out to alert the line further down. Bisbee was trying to get to his feet, inspecting the place where the sharp hoof had rent his heavy apron and opened up a gash in his thigh.
"You okay?" asked Emmet.
He nodded.
"Go down to the medical office and get someone to take you to the hospital."
Bisbee attempted a protest, but Emmet said, "Just do it." He turned to the faces that stared at him, waiting for his next move. "All right, listen up everyone," he called out. "I want every hog in the chute returned to the pens. Don't try to back them up. Open the chute and let them out on the floor – even outside – if you have to." He pointed to the newbie stunner who stood wide-eyed. "What's your name?" asked Emmet.
"Hector."
"Okay, Hector, take the portable, go down this line and make sure that every pig on the rail is stunned properly. I'll go with you to finish the job." The men looked at him as though he had lost his mind.
No one moved. Return the pigs to the yard? Open the chute? What he was asking was bizarre and they were afraid to comply.
Emmet shouted, "I am the fucking floor supervisor. Just do it, now!"
Jumping into action, Hector hurried to get the portable stunner and Emmet retrieved Bisbee's knife. They went down the line one by one, finishing off each of the hanging sows that might still be alive. Someone in the back had opened the chute and others were driving pigs back toward the holding pens; a few of the pigs had escaped and were running around the kill floor. This was the scene that met Bob Warshauer when he stormed into the area with Lawrence Cimino at his side.
"What the hell is going on?" Warshauer demanded. "Who stopped the chain?"
"I did," said Emmet, examining the last hog by the scalding tank.
Warshauer was furious. "Why'd you stop it?"
"One of my workers got hurt," Emmet said, walking up to confront him.
"How bad?"
"He'll live, but I sent him to the hospital."
"Then what the fuck are you doing, Chapel? The line stops for emergencies only."
"A man is hurt. We've got conscious pigs going up on the chain. They're getting tossed into the tank and boiled alive," Emmet shot back. "That's an emergency."
Cimino put his hand out in a placating gesture. "Come on, Emmet, don't confuse reflexive movements with consciousness."
"The doctor's right," Warshauer remonstrated. "And if that ever did happen, you tell Cimino and he'll write it up."
A voice over by the shackling table muttered, "That'll be the day."
After shooting a glare in that direction, Warshauer barked, "Get the line going.  We can figure this out later." He turned to go back upstairs.
"No. The chain has stopped for today," said Emmet. When his boss whipped back around, he went on, "It's gone on too long. The animals suffer, the workers are treated like shit. You and your bosses all the way up to Raleigh know it. The USDA knows it. And nobody will do a goddamn thing."
"You're out of line, Chapel!" Warshauer pointed his finger in Emmet's face.
Emmet angrily swiped Warshauer's hand away from his face. "Like Frank Marino was out of line?" he challenged. "Out of line when he made the video? Out of line when you found out he was going to turn it over to an animal welfare group? Is that why you had him killed?"
Warshauer's face went slack, but he stood his ground. "How dare you accuse me. You're crazy."
As if to affirm that he was indeed, Emmet held his knife up to Warshauer's throat.   "And then when you found out my daughter had a copy of the video, you sent someone to kill her."
"I … don't know what you're talking about," stammered Warshauer. "I don't know anything about any copy."
Inching the knife closer, Emmet said, "I could kill you right here on the floor, hang you up with the pigs and never think twice. And it wouldn't be the first time it crossed my mind."
"Get a grip, Chapel. I don't know what happened with your daughter or with Frank Marino. You got nothing on me." Knowing Emmet's hands were tied in front of so many witnesses, Warshauer warned, "Now, get the fuck out of here. You're fired!"
Emmet stared at him for a moment longer, then slowly put the knife on the floor. But instead of doing as he was told, he began to unbutton his coveralls and said, "Fine by me. But we're going down together." He wrenched open the front of the uniform to reveal adhesive tape strapped around his torso – holding in place a small camera and microphone.
"You sonofabitch!" exclaimed Warshauer. He grabbed for the camera, but Emmet slapped his hand away. Red-faced, the plant manager pointed to a worker standing a few feet from Emmet and ordered, "You, get that camera from him."
The worker offered an apologetic shrug and said, "No hablo Ingles."
Wheeling around, Warshauer shouted to the group of men who had gathered. "Somebody take that goddamn camera!"
No one made a move. Not until Emmet turned to leave, and then the men silently stepped back and opened a path for him. He walked past a few pigs still loose in the passageway to the holding pens; behind him Warshauer was screaming to start the line again. Once outside, Emmet stripped off the camera and went around the building to the parking lot where a knot of reporters waited. His hands shook with emotion and more than a little fear. The future he thought he had was gone in an instant, leaving in its place a daunting, blank emptiness. But he felt like an honest man – and that was enough.
The female reporter from WXTO, a local television station, was the first to thrust a microphone in his face. "Mr. Chapel, you alerted our producer that there are serious violations of the law going on at this plant. What kind of violations?"
He cleared his throat. "Uh, violations of the Humane Slaughter Act for one."
"What is that?"
"It's a federal law meant to ensure that the pigs and cows that we slaughter in this country are killed humanely."
Another reporter shouted, "And you're saying that they're not at D&M?"
"Not all of them, no."
"Why is that?"
"Because companies like Marshfield care only about their profits and how they get them doesn't really factor in." Emmet stood taller, his confidence growing. "Here at D&M, the faster the hogs are slaughtered, the more money the company makes. That means we have to keep the line speed going so fast the workers can't keep up. The animals pay a steep price for that and so do the workers who are getting injured every day."
"Workers are injured every day?" one called out.
"That's right. Go ahead and look it up. The fact is in any slaughterhouse, the injury rate is about triple that of other manufacturing and processing jobs. And it's not just physical injury. There's even worse damage to the insides of people."
"Where is the USDA?" shouted another.
"You'd have to ask them."
The first reporter moved in to stand next to Emmet so her video crew could get them both on film. "How long have the terrible working conditions been going on at D&M, Mr. Chapel?"
"As long as I can remember, and I've been here a long time."
"You say you have proof of these abuses?" asked the woman.
"Yeah," he said, handing the minicam to her. "The stuff that's on here, it's just a few days, but that's pretty much how it goes all the time … except for the last part … what I said to the plant manager. But I'll swear in a court of law that what you'll see in the rest of the video is not in any way unusual."
He looked beyond the reporter to Jude who stood at the back of the group, observing quietly, but with a luminousness that was hard to conceal. She gave Emmet a nod of encouragement and he took strength from it as the reporters shouted out more questions. Emmet Chapel, after all, was the story.
"You're a supervisor at D&M?" asked one.
"Not any more."
"Why are you coming forward now, Mr. Chapel?
"I made a promise to my daughter. And to a friend named Frank Marino."
"If it's as bad as you say, why did you wait so long?"
The question caught him off guard and he looked up for Jude, hoping she would steady him. But like the day at Frank's burial when she had watched him from the top of the hill then disappeared like an apparition, she was gone.
"Mr. Chapel, why did you wait so long?" repeated the newscaster.
Emmet looked directly at her and said, "I don't know. But I'm here now."
Epilogue
Alice lugged the last box from the kitchen out to the driveway where Emmet and Howard Bisbee were loading the trailer. Will sat cross legged on the bare living room floor watching TV, the only thing that kept him from getting under foot. The girls wanted a few last moments together, so Sophie and Caroline had meandered out to the yard behind the house where they could be alone.
Back in the kitchen, Verna was busy wiping the counters with a damp rag.
"Don't worry about that," said Alice, returning to see if she'd gotten everything packed.
"Oh, I have to keep busy," replied Verna, "so I don't cry. How do you think the girls will do?"
"It's a big change, but kids are pretty resilient," said Alice. "As soon as we're settled, Sophie can come and visit. And you know them … they'll be on the phone or texting every day."
The two women could see the girls out the window. "Does Caroline ever talk about it all?" asked Verna.
"Not much with us. But I think Dr. Ohler has been helpful. She seems to be doing much better. She's stopped having these morbid fantasies. She's focused on school again and doing well. Claims she wants to be an animal rights lawyer so she has to get good grades to get into law school. Heck, she's gotten the whole family to give up meat one day a week." Alice touched her friend's shoulder kindly. "How about you and Sophie? This has just been such a terribly difficult time."
"It has. I miss Frank every moment of every day."
"Have you talked to Grady Ward?" asked Alice.
"Not recently. It's an active case and he insists they'll stay on it, but in all honesty, he's probably not going to find out who killed Frank. Even if they did catch the man, they have no proof. The video has disappeared and Marshfield is claiming it never existed."
"But you saw parts of it, and the girls saw it."
Verna shook her head. "I don't know that I'd want the whole thing dredged up again. Sophie feels bad enough as it is."
"Caroline would testify."
"Oh, Alice," said Verna sadly. "It would all boil down to the company's word against that of a traumatized young girl and an animal activist."
At the mention of Jude, Verna saw a hint of pain in Alice's eyes. "What about you and Emmet?" she asked. "Are you going to be okay?"
"Yes, I think so." Alice offered her friend a brave smile. "How long do you think you'll stay?"
"Only until we can sell the house. Then we're going to Florida to live with my cousin until we figure something out."
Emmet poked his head into the kitchen to signal the final boarding call. The last weeks without alcohol and without the daily doses of self-loathing had put color back in his face. Money worries clenched his jaw at night and the decision to leave Bragg Falls had been difficult, but he was facing the hard choices head-on and because of that, a future felt more possible than not.
"Hey Dad!" Will called. "You're on TV!"
The adults headed into the living room, where the five o'clock news was in progress. The anchor on WXTO swiveled to face the camera with an expression of practiced concern. We're back now with a follow-up story from Jim Howell, who's again on the scene at the D&M pork processing facility in North Carolina. I warn you, some of the images you will see are graphic.
The eager young reporter took the screen with microphone in hand. Just four weeks ago, the workers at a meat packing plant in Bragg Falls … in other words, a slaughterhouse, staged a walkout. Led by a floor supervisor named Emmet Chapel, the workers attested to conditions inside the plant that may surprise you and also make you think twice about where your bacon is coming from. They played the clip of Emmet speaking to reporters outside the plant, then showed the footage he had taken of conscious sows getting shackled and pulled along the chain. Excerpts from on-site interviews with Howard Bisbee and two other workers followed before the reporter returned to the screen. The media coverage of the walkout certainly got the attention of Marshfield Industries, which owns this facility. So we're here today in Raleigh to learn more. I'm speaking with Ned Bannerman, the Regional Vice President at Marshfield.
Along with his custom made Italian suit, Bannerman wore an expression of having been wronged in some way. He leaned into the microphone, saying, We're deeply distressed about what we saw on the video. We want to ensure our valued customers that this is an isolated incident and is in no way representative of how we conduct business at Marshfield. We have fired the individuals responsible for these incidents. Marshfield has zero tolerance for these actions.
Howell asked, Didn't the USDA temporarily shut down the plant?
It was a joint decision, responded Bannerman, acknowledging a bespectacled man standing next to him. We wanted to conduct a full review and institute additional training procedures for our employees. But I'm pleased to say that after our review, we are ready to bring D&M up to full speed again. The number of USDA inspectors has been increased, and we will assist them in every way possible.
Pushing the mic closer, Howell said, But Mr. Bannerman, I understand that some of the things we heard from the workers about the treatment of the animals and the difficult working conditions are considered standard industry practice. Can you comment?
The U.S. Department of Agriculture has set stringent regulations that must and will be followed, Bannerman said with finality.
Joining us is George McAlister from the USDA, said Howell, pushing the microphone over to the man with glasses. Question for you, sir …  Do those regulations include monitoring how fast the hogs are pushed through? And doesn't the line speed impact the working conditions inside?
McAlister cleared his throat. We are in the process of reviewing the impact that line speed has on the federal requirements of the Humane Slaughter Act. When our report is finalized, we'll make it publicly available.
Putting up his hand, Bannerman signaled that the interview was over. He and McAlister began to walk away, but the reporter asked, Mr. Bannerman, who sets the line speed?
Bannerman didn't respond, and Jim Howell started after him, calling out more aggressively, Mr. Bannerman, who sets the line speed?
The Regional VP stopped and turned. Through a tight smile, he replied, We will ensure that all state and federal regulations are being followed without exception. At Marshfield, we are dedicated to humane treatment and safe working conditions and to bringing affordable and healthy food to the American dining table.
"Miss, is that it?" asked the kid behind the register.
His voice startled Jude away from the television mounted on the wall of the mini-mart. "Yes, thanks." She paid cash for the full tank of gas and a package of trail mix for the road, hesitating one last moment to see if they returned to Emmet's interview, but the news station was on to the next segment.
Jude was encouraged that the USDA representative had stated publicly that the agency would be studying line speed, and she hoped that Jim Howell would continue to cover the story – if only to keep the pressure on Marshfield. But as Gordon had impressed upon his staff, they shouldn't entertain illusions that the walkout and subsequent media coverage would change how the industry operated … the war would wage on.
Indeed, back in Washington, Gordon had her working with a new investigator, teaching him the ropes and creating a back story for him before he ventured into the field. She'd had a chance to catch up with the other investigators, air out her stuffy apartment, and ensure that Finn's leg healed up. Now she was on the road again.
Back in the car, she opened the file that laid out her next assignment: venturing into the wintry world of hunters and trappers out west. Jude tried to re-read the background that CJ had put together, but images of Emmet kept playing in her head. She'd heard the family was moving to California.
Family. The word filled her with longing.
Jude tried to push the feelings away as she pulled out onto the county road. She hadn't been west in a while. She might take a side trip to visit an old college friend after this investigation. The car gathered speed and they traveled past an open field where a flock of birds whirled in circles against the purple glow of dusk. Rolling down the windows, she breathed in the scent of damp hay and the promise of snow. And she reminded herself that hers was a different kind of family – a kinship with innocent pigs heading to slaughter, with hens and cows, wolves, bears, tigers, elephants, dolphins, the vanishing, the voiceless.
She looked over as Finn stuck his head out the window, pointing his nose into the wind. The stream of air ruffled his lips and lifted the flaps of his ears. He looked like he was flying.
***
Learn more about Robin Lamont and The Kinship Series.