Debby Ng is a Singaporean photojournalist who has covered social and environmental assignments in Nepal since 2008. Based in Australia now, she contributes her media, technical and fundraising expertise to the Himalayan Mutt Project. She is currently studying Environmental Science at the University of Tasmania.
***
Himalayan Mutts Go To Neutering Camps
by Debby Ng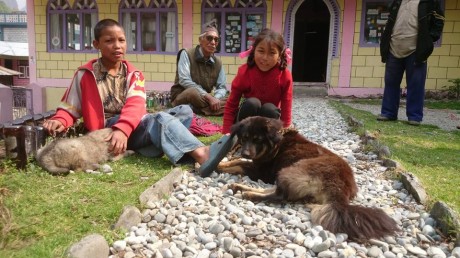 Dogs are intrinsic to Himalayan communities, but decades of unmanaged dog populations have turned animals who used to be pets into a problem, and the dogs are paying for it with their lives. The goal of the Himalayan Mutt Project is to deliver humane and effective alternatives to cruel dog cullings, so that dogs may once again be loved, not loathed.
It was animals who first drew me to the Himalayas, though they were not dogs. Nepal's Himalaya is home to some of the most spectacular and mysterious wildlife in the world, such as musk deer, red panda, and snow leopards. It was the potential to photograph these animals in their wild habitat that first drew me into the Himalaya in 2008.
However, while searching for red panda in Everest National Park last winter, a chance conversation with a local woodcutter transformed my search for wildlife into a very different kind of mission.
I asked the woodcutter if he had seen red panda recently. He took out his mobile phone to show me a photo he had taken the day before, of a pair of red panda. He then said, "They are common – the dogs often pull them out into the village."Later that day, another conversation revealed the same story, but this time, the man I spoke to said that news of red panda being taken by dogs has been reported for the past five years.
The stories remained consistent as we travelled deeper into Everest region. The landscape and wildlife changed, but citizens continually reported the same thing. "There once were many wild pheasants along the slopes, but they are gone now because the dogs take them,"a resident of Namche told us helplessly. "Ninety-eight percent of the dogs you see here don't belong to anyone –they have to find food."
Dogs who must fend for themselves are opportunistic, and don't just prey on wildlife. They take livestock too, such as baby yak, goats, and sheep. When this happens, villagers respond much more actively, such as by laying food laced with poison along the trails. Once consumed, the poison, a common pesticide used to kill small birds and rodents, causes muscular convulsions and eventually death through suffocation –a cruel and painful way for any animal to die. These indiscriminate food traps laid along the trail have killed pet dogs and untargeted wildlife too. The carcasses of poisoned dogs are discarded in nearby forests, where native scavengers feed on them, and ingest the poisons in turn. Local residents report observing vultures who are unable to fly after feeding on poisoned dogs. No one knows what happens to other scavengers like jackal and foxes, who also feed on these carcasses.

These problems have not gone unnoticed, but, while many of the folks who live in the area were not comfortable with using poison as a strategy to control the dog population, they felt that they had no other option. Despite years of complaints from Himalayan communities to district authorities, no concerted efforts have been made to manage community dog populations effectively and for the long term. The rugged and inaccessible landscape, coupled with the inherent high costs and inconvenience of travel, have been a barrier to both government and local non-government organizations.
I knew something had to be done. And, thus, the Himalayan Mutt Project was born.
In May 2014, only four months after I co-founded the project along with my friend and guide, Mukhiya Godame, the Himalayan Mutt Project mobilized a veterinary team based out of Pokhara, Nepal's third-largest city, into the high mountains of Manang District. Mukhiya was born and raised in the Himalaya. His extensive knowledge and network with Himalayan communities not only enabled the Himalayan Mutt Project to scramble together the logistics necessary to transport our veterinary camp into the mountains, but it was also his convincing that made communities open up to receiving our work. Our team of veterinarians, vet technicians, and animal handlers traveled by foot, four by four, tractor, and by motorbikes to deliver veterinary services into Nepal's Himalaya for the very first time –stopping in nine villages to neuter and deliver anti-rabies vaccinations to the local dog populations.
By partnering with local animal welfare organizations, the Himalayan Mutt Project helps local groups extend their reach within Nepal. It is an inspiring moment for both villagers and animal welfare workers to share animal protection work and learn the challenges faced by rural communities. One of our beneficiaries from the village of Ngawal (3,800m) recently stated, "We have been asking for a project like this to come, or people will have to kill the dogs." She went on to explain, "People keep one dog in the home, and the rest are put on the street –so they are hungry and have to steal food, kill sheep, goats."
Of course, not everyone immediately welcomed us and our ideas for how to help. Surgery for companion animals was unheard of. Some people were not only afraid of the idea, but some felt it was unnecessary –as culling was cheap and easy. For a long time, locals had focused on the problem street dogs were creating, not realizing the issue stemmed from their very own pets who were populating the village. We had to assure them that the procedure was simple and their pets would recover well. Thankfully, our successful operations have assuaged their fears.
Another problem we ran into was that many of the dogs in the villages we visited were large working dogs, and not all shepherds we met were open to having all of their dogs neutered at one go, and chose one dog to be neutered just in case there were complications. As there were several such instances, it is essential that we return next year to neuter any dogs we missed this year, as dogs left un-neutered repopulate rapidly. Apart from working dogs, several street dogs remained unneutered because, despite our best efforts, we were unable to catch them. We encouraged people to feed the stray dogs so that the dogs would be accustomed to human contact, and hopefully would therefore be easier for us to catch next year.

Over our 12 day camp, a total of 158 dogs were neutered and vaccinated, while an additional 43 received vaccinations only. Moreover, through observing our sterilization camps, people living in the area learned about a new alternative to manage dog populations without the use of poisons, and it was a wonderful opportunity for outreach and education!
Please learn more about our work, and find out how you can help us at www.himalayanmuttproject.org.
***

Debby Ng is a social and environmental photojournalist based in Singapore. She grew up in one of Singapore's last rural villages where chickens were slaughtered on the porch, but decided to become a vegetarian at age 10 after watching a documentary about intensive farming while volunteering at a local animal shelter. Since 1999, Debby has worked for the World Society for the Protection of Animals (currently known as World Animal Protection), Environmental Investigation Agency (EIA), International Union for the Conservation of Animals (IUCN), and TRAFFIC, on campaigns to end bear bile farming in China, and the illegal wildlife trade. She is the founder of a marine-protection organization in Singapore, and helps to neuter cats in her neighborhood.