We are gobsmacked about being named by VegNews Magazine as the Indie Media Powerhouse of 2011! The full-page spread appears in the November + December 2011 issue — the annual "Best of …" that many of us in the animal activist and vegan communities eagerly anticipate. I was so flabbergasted by this article that my hair turned blonde: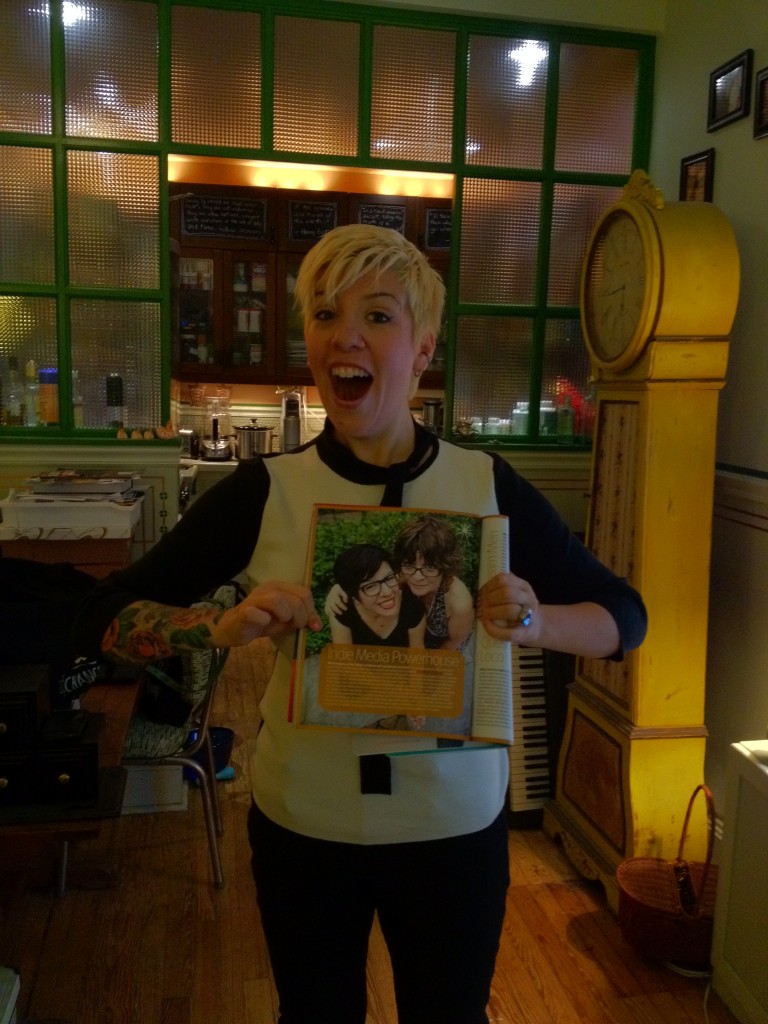 Though I really want you to read the full article — not to mention read the rest of the issue, which I am currently devouring — and even though I am a little embarrassed to repeat such outrageous flattery, I will give you a taste of the feature about Our Hen House. According to VegNews:
"What happens when talent combines with passionate activism? The absolute best of media, that's what. Jasmin Singer and Mariann Sullivan, the unstoppable duo behind online media hub Our Hen House and self-described 'wannabe pundits,' create some of the most important, thought-provoking content anywhere. … Our Hen House is poised to become a major media force in the next year, as its loyal audience responds to the brilliant commentary, intelligent structure, and envelope-pushing creativity of its founders."
I'm almost rendered speechless by this unbelievable gush of love. We are nothing short of jubilant that the work we do resonates with people, and that is absolutely a testament to the fact that y'all are eager to get involved with changing the world for animals. What we do at Our Hen House is really a reflection of what you do, so thank you for continually providing us with inspiration and fodder. If you're not already subscribed to our podcast on iTunes, please subscribe — and don't forget to join us on Facebook and Twitter.
Lastly, in the interest of shameless self-promotion — and by self-promotion I really mean Our Hen House promotion, since we are a 501(c)(3) non-profit — we hope you will consider showing your support by helping me reach my goal of raising $1,000 via Facebook's Causes for my birthday (Oct. 30). And, if you're in NYC, join us for my birthday party/fundraiser on November 2! Our Hen Party will feature comedy by funny man and vegan Myq Kaplan, yummy cupcakes (and a generous sponsorship) by Sweet Cheeks Vegan Bakery, a chance to win a designer vegan Vaute Couture coat, and a cash bar featuring my favorite drink (at a special price), $5 Soy White Russians. If you are a fan of Our Hen House, if you follow our blog, videos, podcasts, and workshops, we hope you will support us in any way you are able so that we can continue to build a strong voice for animals.
Thanks so much for being part of our flock.