Funny thing, creative advocacy. No matter what you're good at, you can turn it into an activist tool. And though vegans are sometimes stereotyped as being humorless (and hey — I'm a vegan lesbian — the ultimate in unfunny, right?), truth is, there are quite a lot of us who love to laugh. And there is also a particular niche amongst us who are pretty good at creating the laugh riot. A comedian and an activist? Isn't that an oxymoron? Kind of like ethical foie gras?
Not so. One of my all-time favorite vegan animal rights comedians is Dan Piraro, creator of the world-famous (and vegan-friendly!) Bizarro cartoons. Dan is the ultimate example of how a sense of humor can reach the masses for the betterment of animals. With Bizarro — which is syndicated all over the globe — Dan speaks out regularly for animals. He does it with his stand-up, too, which is often centered around his journey in becoming the almighty activist he is today.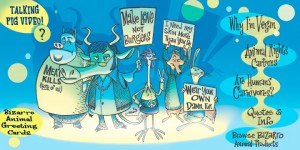 Dan is one of several performers slated to appear in Comedy for Karma III, a "unique annual fundraiser" that brings together famous animal-loving funny people for an extraordinary night that benefits the truly awesome and special Woodstock Farm Animal Sanctuary. Comedy for Karma is coming up on April Fool's Day and, in addition to Dan, the lineup includes Dave Attell, Gary Gulman, Wyatt Cenac, and Louis CK. Get your tickets.
By the way, I love this kind of creative fundraiser idea! It's an ideal example of how you can take even the most random talent and plug it into helping animals.
Art by Dan Piraro, from Bizarro.com.