Hi everyone – Jasmin here. About one day per season for the past few years, I've had on my calendar: 'Teach at Main Street Vegan Academy.' This is a small, elite, and downright magical program developed by author and 30-year (!) vegan, Victoria Moran, to train and certify Vegan Lifestyle Coach/Educators (VLCEs). Lucky for me, the next MSVA course is coming up in October, and Mariann and I are excited to, once again, present. It's an in-person course, and if you're not in NYC, you have to get yourself here and find a place to stay. It's worth the effort. You'll experience 5 ½ jam-packed days with lectures on every aspect of vegan living. My fellow instructors include a cardiologist, a registered dietitian, a renowned pastry chef, fashion designers, attorneys, counselors, authors, and business mavens. You'll enjoy field trips to successful vegan businesses, and you'll eat food that is, genuinely, to live for. Afterwards, you'll be part of the strong and supportive Main Street Vegan Academy family with graduates in ten countries. As I mentioned, the next class happens in October, and three others are slated for 2016. Check it out. I hope to see you there. Today, as a special treat, the one and only Victoria Moran is giving you a glimpse into why Main Street Vegan Academy is so special. She's very special too, so pay close attention. xo
***
Main Street Vegan Academy
by Victoria Moran, HHC, AADP, VLCE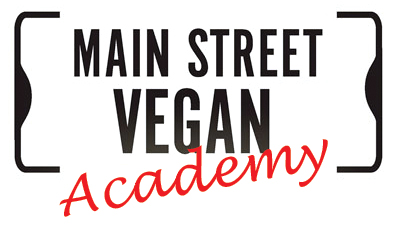 Being vegan is a wonderful thing. And one of the best parts is that you can do that – save animals, eat amazing food, know your life matters, get healthier, make new friends – and still be you: same house, same job, same person. But sometimes, being vegan makes such an impact that you want to change more than your attitude and your grocery list. You want to take this thing further. That's what brings men and women from all walks of life to
Main Street Vegan Academy
. They get themselves to New York City, immerse themselves in vegan wisdom, fun, and inspiration for five-and-a-half amazing days, and return as VLCEs: certified Vegan Lifestyle Coaches and Educators.
Our curriculum covers:
Vegan Principles – animal rights, nutrition, health, the environment, vegan living
Communication Principles – coaching and counseling; working with mixed and transitional families, and with people with food and eating issues; effective public presentations and food demos; and
Business Principles – social media, attracting clients, branding and building your business.
And, because you've come to New York, one of the world's most vegan-luscious cities, we take field trips. There are vegan businesses here of every sort – food, clothing, health, beauty – and we visit a bunch of them. And that's before we even get started on the restaurants! (We enjoy three meals out as a group; you're my guest for several onsite meals; and there's still time for you to explore the restaurants you've been wanting to try on your own.)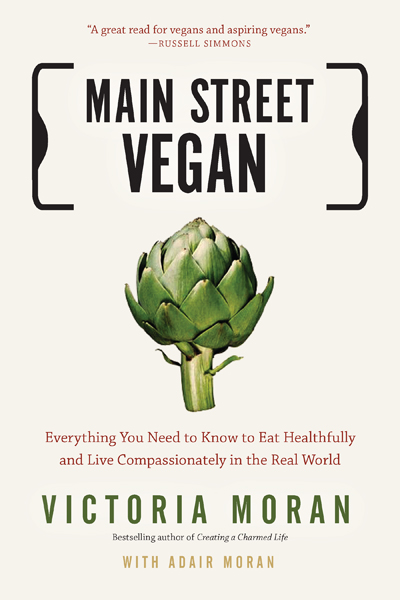 Our faculty is a team of vegan luminaries whose credibility is rivaled only by their compassion. Jasmin Singer and Mariann Sullivan of Our Hen House teach our Animal Rights and Animal Law class. At times when they've been unavailable, pinch-hitters have included Sherry Colb, JD – author of Mind If I Order the Cheeseburger?; Bruce Friedrich of Farm Sanctuary, named by Esquire magazine as one of the most influential young men in America; and noted broadcaster, Jane Velez-Mitchell (janeunchained.com). This puts a whole new spin on the term "substitute teacher"! Other faculty stars include Robert Ostfeld, MD, head of the Montefiore Cardiac Wellness Program; Michael Parrish Dudell (tapped by the Shark Tank TV show to write their business books); noted pastry chef Fran Costigan; fashion designers Leann Hilgart (Vaute Couture) and Joshua Katcher (Brave GentleMan); and MSVA graduate JL Fields, whose vegan coaching, speaking, teaching, writing, radio hosting, and consulting has become her fulltime career.
This is a unique, "boutique" experience. Each class is small – around 15 students – fostering camaraderie and enabling the faculty to share their PowerPoint decks and offer their email addresses and phone numbers. Our nutrition instructor, Marty Davey, MS, RD, lets our grads know that she'll be their go-to dietitian: for any nutritional issue that we can't deal with, Marty is on call. After the course, grads receive a "master list" that introduces them to fellow alumni for ongoing support and collaborative opportunities. Alumni can also join our very active private Facebook page, contribute to the VLCE-generated weekly blog on MainStreetVegan.net, have a professional listing on the site, and participate in reunions.
Our graduates include RNs, psychotherapists, image consultants, attorneys, holistic health counselors, teachers, military personnel, students, stay-at-home moms – people from all walks of life. We've had students in their seventies and some barely out of their teens. They've come from across the U.S. and Canada, as well as Mexico, Panama, Argentina, France, Germany, England, Australia, and South Africa. While some take the course for their own enrichment or to use in their existing practice as a yoga teacher, personal trainer, clergyperson, or health care professional, others are independently coaching and teaching, and some have started vegan businesses as diverse as retail stores, food products, restaurants – even vegan vending machines. More than one has told me that coming to the Academy is "best thing" they've ever done. And that's the best thing I can ever hear – well, until I hear that the whole world is vegan.
***

Victoria Moran is the author of 12 books, including
Main Street Vegan, The Love-Powered Diet, Creating a Charmed Life
, and
The Good Karma Diet
. She's appeared on
Oprah, The Today Show,
and
NPR's
All Things Considered
, and her work is in publications including
VegNews, Vegetarian Times, Yoga Journal, Mothering, Woman's Day, Ladies' Home Journal,
and
The Huffington Post.
The next Main Street Vegan Academy program is October 2-7 of this year; and April, August, and November courses are slated for 2016. Detailed information about the course – and more graduate testimonials – are at mainstreetvegan.net/academy.