We're excited to introduce to you John Jungenburg – a fierce young activist working at the intersections of animal and LGBTQ rights. Throughout the summer, John will be providing us with updates of his adventures traveling and promoting veganism at LGBTQ Pride Parades across the Midwest. In this piece, he takes us through Wisconsin for the Mad City Vegan Fest and Milwaukee Pridefest.
***
Promoting Veganism in America's Dairyland
by John Jungenburg
June 6, 2014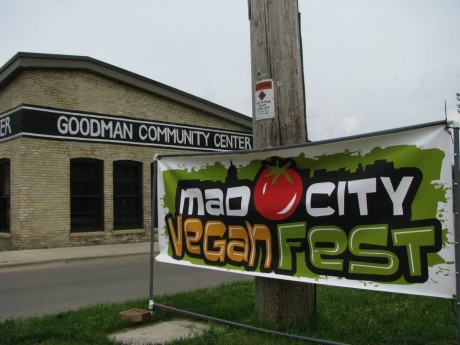 This weekend's adventure started off in the awesome, very vegan-friendly city of Madison, WI. I was there for the fourth annual Mad City Vegan Fest, which is always a fun event. It draws thousands of vegans and non-vegans alike to view vendors, eat vegan food, and see speakers! I helped table with my friend Sandi, who owns Sandi Swiss Sweets, a vegan and gluten-free baking company based in Chicago. I helped to get her delicious vegan cupcakes out to hundreds of people at the Fest!
After filling up on delicious vegan food, seeing good friends, and watching some of the speakers, my friends Radish and Alex and I left Madison and headed onwards to Milwaukee to leaflet with Mercy For Animals at the Milwaukee Pridefest.
On the car ride to Milwaukee, we heard some very exciting news over the radio: the previous day, a federal judge in Madison had ruled that Wisconsin's ban on gay marriage was unconstitutional! Hearing that news and knowing that the world is headed on a more progressive, compassionate path gave my fellow activists and me the renewed energy that we needed to help us leaflet at the festival.

We got to the fest, got started leafletting, and, right off the bat, we knew that this would be a great event for outreach. We met up later with volunteers Todd, Ryan, Gill and Josh, who are pros at leafleting. Throughout the night, we had awesome interactions with people. I talked with one woman who said that she participates in Meatless Mondays, and wants to transition to veganism. I gave her a veg starter kit and some tips, which made her very happy. Another person actually gave Mercy For Animals a donation on the spot!
By the end of the night, we had handed out 2,100 leaflets.
After the Fest, we headed over to our good friend Rachel Golusinski's place, where we were staying for the night. Rachel is an awesome activist from Milwaukee; she has leafleted, participated in demonstrations, and is involved with cat rescue and TNR programs in the area. In the morning she even made us a wonderful tofu scramble for breakfast before we all headed off to the Milwaukee Pride Parade.
June 7, 2014

At the parade, we met up with Rachel Shippee – an activist from Illinois – who helped to organize the event. We had a great team of 11 volunteers for the parade, hailing from both Illinois and Wisconsin. Together, we leafleted to parade attendees, marched with pride flags, and carried our banner.
This was our second year in a row doing outreach at this parade, and I would say that it was an even better experience this time around. There were tons of people and the atmosphere was very energetic – we even had people stand up and cheer for us! One person stood up and shouted, "Woohoo! Rock on, vegans!"
By the end of the parade, we had handed out 1,050 leaflets and had a great time.
Stay tuned for my next piece chronicling our adventures at the Indianapolis Pride Parade!
***

John Jungenburg was raised vegetarian, then learned about the cruelty in the dairy and egg industries; he went vegan four-and-a-half years ago, and has been involved in animal advocacy for about the same amount of time. John has attended dozens of protests, ranging from rodeos to puppy mills to vivisection, and has handed out over 40,000 Vegan Outreach leaflets. He also co-founded an organization called Family of Activists Standing Together (FAST). The group began as a bike touring group that aimed to raise awareness about animal rights, but is now focusing strictly on educational events. In his spare time, John likes to read, relax in nature, hang out with friends, and play with his four cat companions.