It's kind of impossible to keep up when it comes to the explosion of interest in animal studies. Of course, animal studies programs and courses don't always focus on animal liberation. (If they do, they're generally referred to as Critical Animal Studies, which you can learn more about at the Institute for Critical Animal Studies). But the fact that they are popping up everywhere, that students are eager to find institutions of learning that offer them this option, that people are looking, thinking, writing and worrying about animals and our relations to them, is all for the good. It is this kind of serious attention that will produce leadership, and will lead to change. That is, assuming that the right people, those who really care, start getting involved.
One pretty amazing development that just came across our radar is a Ph.D. program in Law and Animals at the University of Basel School of Law in Switzerland. The 3 year program, which will be open to ten students, will focus on how human society deals with animals and how such treatment is reflected in the law, as well as how legal regulation applies when there are interactions between humans and animals, whether on a local, global, or individual level.
This is the first program of its kind in Europe (or anywhere?). It aspires to adopt an interdisciplinary approach, and also welcomes academic exchanges with other learning institutions pursuing similar goals, specifically including the Center for Animal Law Studies at Lewis & Clark Law School in Portland, OR, and the brand new  Messerli Research Institute in Vienna, which has a unit in Ethics and Human Animal Studies as well as one in Comparative Cognition.
And, speaking of the Center for Animal Law Studies, that's where I will be teaching next semester, and it's also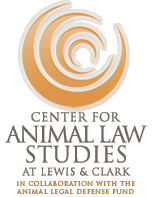 where another cutting edge program has just been started. In addition to providing animal law courses to regular law students, the Center has just instituted the first LLM program in animal law. This program offers an advanced degree for those who are already have a J.D. and want to, firstly (if necessary), catch up to today's law students who have had an opportunity to take animal law courses in law school, and secondly, dramatically surpass the opportunities available to law students by being able to focus on a much wider range of subjects than are available to most J.D. candidates. Among the courses available at L&C are Crimes Against Animals: Law & Policy; Environmental & Animal Law Advocacy; Animal Legal Philosophy and Development; Comparative International Animal Law; and, of course, the course I will be teaching, Animals in Agriculture: Law and Policy (I'm sooooo excited!!!). There are also clinical opportunities in both litigation and legislation.
Things are also happening outside the legal field and at the undergraduate and masters levels. We've spoken in the past about some of these opportunities, but now there are also schools that are allowing students to major in the subject. The first was Eastern Kentucky University.  Carroll College in Montana has a major in Anthrozoology, which focuses specifically on the bond between humans and companion animals. And the online Humane Society University, which we'll be focusing on in more detail in the near future, has opened up a whole new world of academic possibilities for those who want to learn how to change the world for animals.
There are also so many masters programs, including the one at Canisius College, which is also available online, as well as the long-standing masters program in Animals and Society at Tufts University Veterinary School. A good roundup of all of these programs can be found at the Animals and Society Institute, which really stays on top of this.
It's truly staggering how far the world of animal studies has come, even since we began Our Hen House in January 2010. Opportunities are growing exponentially. If those with a true interest in liberating animals start to step up to the plate and take the lead here, the academic world, as well as the real world, are going to start to see serious change. The meat industrial complex, and other supporters of violence against animals, had best start thinking about how to adjust to those changes.