Following the human tradition of recording testimonies as a form of activism, this three-part feature series, Untold Testimony with Katie Gillespie, is dedicated to sharing testimonies of the stories of three animals. While the testimonies in these pieces share the stories of individual animals, they also act as a reminder of the billions of other animals around the world who live and die, and whose stories will never be told. 
***
Untold Testimony: Betsy
by Katie Gillespie 

The first thing we know about Betsy is that she was used as a 'breeding sow' on a small family farm in Eastern Washington that raised pigs for slaughter. While nothing specific is known about Betsy's life during that period, it can be safely assumed that, as a breeding animal, even on a small farm, Betsy was repeatedly impregnated through artificial insemination, and gave birth to babies who were taken away shortly after a truncated period of nursing.
Apparently, Betsy's "owners" stopped caring for the animals, whether because of personal hardships, financial setbacks, simple irresponsibility, or other reasons. For the animals, those reasons are of no importance at all. Fortunately for Betsy, local authorities were somehow alerted to abuse and neglect on the farm, and intervened. When they arrived at the farm, they found Betsy and other pigs mired in mud and feces in a small pen. Most of the pigs were dead, and Betsy was so weak she could not stand or walk. To keep from drowning in the mud and feces, she had to rest her head on one of the dead pigs next to her. When Betsy and two other survivors were taken away from the farm, the pens were cleaned out, body parts of other dead animals were found in the mud, and the conditions were documented as one of the worst cases of animal cruelty local authorities had ever seen.
Although all details of the case are not known, we do know that the farmer responsible was charged with animal abuse and neglect and pled guilty. Because he made this plea, the case did not go to trial and he was able to avoid jail time. Since he was a first-time offender, with good behavior this charge would have been wiped from his record within two years, and he likely received a fine as a penalty. Sgt. Jody White, the animal control officer responsible for this important rescue, says that it is cases like these that show just how important it is to report without hesitation any acts of cruelty, abuse, or neglect you may witness. For one, reporting any and all acts of animal cruelty helps individual animals who may be suffering. But reporting these conditions also creates a paper trail documenting the cases of those who may in fact be repeat offenders.
When Betsy arrived at
Pigs Peace Sanctuary
, she had to walk on her front knees due to chronic foot pain, and she was despondent and thin. Learning to trust again, Betsy gradually made a full recovery and learned how to walk and run normally. As she got healthier, Betsy was housed in a small area for new arrivals, which is just adjacent to the main herd area. There, she made friends with Baily, a large and extremely gentle pig who was born blind. Pigs from the main herd gathered along the fence to welcome her, and Betsy responded curiously. A shy pig at the start, when Betsy was introduced to the main herd, she slowly befriended a group of ten elderly pot-bellied pigs. She spent time exclusively with them and tended to shy away from other pigs at the sanctuary. With her pot-bellied pig group, Betsy spent her days wandering on trails through the woods at Pigs Peace, sleeping in shady beds of hay, and bathing in muddy ponds to keep cool during the hot weather.
After many months of recuperating at Pigs Peace, Betsy and her group of pot-bellied pig friends were re-homed to a newly opened sanctuary in a neighboring state. Pigs Peace tries to re-home rehabilitated, healthy animals on a limited basis in order make room for more pigs in more desperate need of close medical care and attention. For this reason, once Betsy was well, she and her friends were moved to the new sanctuary, which was thoroughly checked out ahead of time and looked like it would be a beautiful new home. A year later, Judy Woods from Pigs Peace returned to the sanctuary only to find that the pigs were thin and hungry, and many of them had mange. They did not have food or bedding and their living conditions were less than ideal.  Judy was able to negotiate the return of Betsy and some of the other pigs to Pigs Peace.
Now, Betsy remains at the sanctuary, where she will live out the rest of her life. Since her return to Pigs Peace, Betsy has become much more social, forming friendships with large pigs and pot-bellied pigs alike. She comes running for treats (like carrots, nuts and apples) and affection. She roams through the fields, and makes nests in the woods and in the many pig houses around the sanctuary. Most of all, she enjoys a life of love, safety, and cross-species friendship, and she will never again have to face the kind of cruelty she experienced on the farm.
Betsy's story is instructive in a number of ways for thinking about the lives of animals on farms, and in sanctuaries.
First, it says much about the effectiveness (or ineffectiveness) of law. Not only are the laws protecting farmed animals woefully weak, but even when, as here, the animals' "owner" is in violation of the law and someone reports it to the authorities, the legal resolution is generally too little or too late to prevent horrific cruelty, and often, as for Betsy's companions, a hideous death.
Moreover, her story tells us much about the lives of breeding animals. While Betsy's story represents a case of what some might call exceptional cruelty, key components of her life on the farm are completely routine practices in both small and large-scale farms alike, and are not exceptional at all — like the repeated forced early weaning of her piglets, and the fact that when her reproductive productivity declined she would have been slaughtered for sausage or other low-quality processed meat.
Also, Betsy's story is instructive for how we think about sanctuaries. Sadly, many people with compassionate hearts and a desire to make change for animals start sanctuaries without being properly prepared. Running a sanctuary takes an extraordinary amount of time, energy, and money. Judy at Pigs Peace recommends that if you are thinking of starting a sanctuary, you should first spend an entire year (365 days in a row) working at one. In addition to learning important skills relating to animal care, working for a year at a sanctuary will give you a sense of what the work requires, and whether it is a feat you are prepared to take on. Moreover, it will help you decide whether it is something you can sustain physically and financially over many years (animals can live a long time). When a sanctuary fails or is in the process of failing, it is most often the animals who suffer.
Betsy is just one pig who was used for breeding on one small-scale family farm. And yet, sharing these important truths through the experience of an individual animal — in other words, making routine mass violence
personal
— can be one method for changing hearts and minds about animals. Her story stands in as a historical marker for those whose testimonies remain untold.
***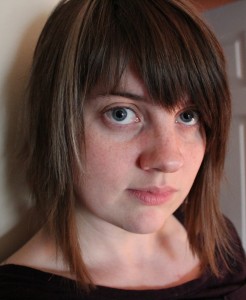 Katie Gillespie 
is a PhD candidate in Geography at the University of Washington (UW) in Seattle. Her work focuses on animals in the food system — in particular, within the dairy and slaughter industries. Katie currently teaches an undergraduate class, "Animals, Ethics and Food: Deconstructing Dominant Discourses," which asks students to explore and rethink their relationship to animals in the food system, and she co-organizes the Animal Studies Working Group at the UW. In her free time, Katie writes the blog Serenity in the Storm, which features vegan food, news, and animal studies/advocacy-related topics, and she volunteers at Pigs Peace Sanctuary in Stanwood, WA.