Following the human tradition of recording testimonies as a form of activism, this three-part feature series, Untold Testimony with Katie Gillespie, is dedicated to sharing testimonies of the stories of three animals. While the testimonies in these pieces share the stories of individual animals, they also act as a reminder of the billions of other animals around the world who live and die, and whose stories will never be told. In December, we brought you Untold Testimony: Betsy. Today, meet Maizy.

***
Untold Testimony: Maizy
by Katie Gillespie
Maizy was born on April 23, 2003, into the home of a woman who bred yellow Labrador retrievers for show. Maizy was bought as a puppy by a family who unfortunately did not have as much time for her as she needed (Labrador puppies can be quite rambunctious, and they need a lot of attention). The family gave her to their housekeeper, who took Maizy home and left her chained outside on a cement slab for over three years.
Maizy was not permitted in the house, and she was exposed to the elements year-round. She had a small, open shed for shelter. She had some slight aggression around food — most likely because other animals may have tried to get to her food while she was eating. Maizy did not receive any veterinary care during these three years, and she was never exercised.
My next-door neighbor Elaine worked with the housekeeper and had heard about Maizy. She was trying to figure out how to get Maizy out of that situation when the housekeeper announced that she and her family were moving into an apartment that did not allow dogs. Elaine seized this opportunity and said she would take Maizy and find her a suitable home. When Elaine arrived to pick Maizy up, it was the height of the summer in July. She was chained on the cement with no water. Elaine immediately started looking for Maizy's new home.
The first time I saw Maizy, she was lying in Elaine's yard with a big canine smile on her face. When she saw me, she came straight over to the fence. I leaned over to pet her. That was it. People talk about love at first sight — this moment was like that. Our exchange melted my heart, and though I had never lived with a dog, I knew that we had found each other for a reason. Elaine asked my partner and me to watch Maizy for an hour while she ran to the grocery store, so we brought her to our house to hang out while we made dinner. Elaine probably knew this was the nudge we needed to adopt her, and she was right. Maizy's been with us ever since.
When Maizy came to live with us, the years of neglect were written on her body. She was five years old and overweight, and she had early-onset arthritis in her hips — both from not exercising and from sitting on cement all day. She had the worst chronic ear infection the vet had ever seen — the first time I touched her ears, she yelped from the pain. She also had allergies resulting in a skin condition that caused constant itching and irritation, and she had regular digestive problems. On long walks, she limped from the arthritis, and she was constantly scratching, which caused her skin to be red and inflamed. Through a number of vet visits in those first couple of months, which were kindly paid for by the family who had originally bought Maizy from the breeder, she slowly began to recuperate.
After much research, we transitioned Maizy to a whole-foods, plant-based diet (including some supplements). Maizy was personally delighted with this change. She enjoys watching me make her meals, she likes to lick the spoon before she eats, and she loves getting constant treats of whole carrots, broccoli stems, and dehydrated yam chips during the day. After only a few months on this diet, we noticed an amazing improvement in her overall health. I took her to the vet for a comprehensive checkup to verify that she was getting what she needed from the diet. The report was glowing. She had reached what the vet considered to be her perfect weight, and her blood work was excellent. Her coat is now shiny and soft. Her arthritis is practically nonexistent, which the vet attributes to the combination of supplements and regular exercise.
Now, Maizy is nine years old, and we enjoy a life full of love together that includes lots of trips to the dog park to swim, walks in our neighborhood, road trips, and the occasional hike in the woods. She sleeps in our bed and hangs out on the couch with us while we watch TV. She is a wonderful companion. In fact, she is barking in her sleep next to me while I write this.
I can testify that living with Maizy has been one of the most transformative experiences of my life. Sharing a life with Maizy has taught me how to love in a whole new way. When Maizy came to live with us, we were just beginning to rethink our relationship to animals in the food system. Knowing Maizy opened my heart and mind and made me more committed to making the world better for animals than ever before. I felt that if I could love a dog this deeply, then it was certainly possible to love any other animal this much, and that reality simultaneously broke my heart and moved me to dedicate my life to working for animals.
Maizy's story is one of routine neglect, and sadly there are dogs everywhere suffering in similar and worse conditions—perhaps not so terrible as to warrant intervention by the authorities, but bad enough to make a miserable life for the individual who has to live it. In these cases, interventions like Elaine's may be the only way to expose and respond to this neglect. Neglect is a kind of violence all on its own—a violence that is physical and emotional. Giving testimony of Maizy's experience works to expose this violence and provides a historical marker for those whose stories of neglect will remain untold.
***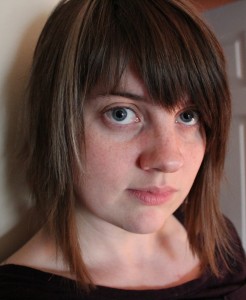 Katie Gillespie is a PhD candidate in Geography at the University of Washington (UW) in Seattle. Her work focuses on animals in the food system — in particular, within the dairy and slaughter industries. Katie currently teaches an undergraduate class, "Animals, Ethics and Food: Deconstructing Dominant Discourses," which asks students to explore and rethink their relationship to animals in the food system, and she co-organizes the Animal Studies Working Group at the UW. In her free time, Katie writes the blog Serenity in the Storm, which features vegan food, news, and animal studies/advocacy-related topics, and she volunteers at Pigs Peace Sanctuary in Stanwood, WA.