The short answer? They're all in movies that could change the world for animals.
Huge cultural shifts are needed if we're going to stop exploiting and abusing animals. We all know that. And one of the best tools for shifting attitudes, changing social consciousness, and getting past people's defenses, are the movies. So it's exciting to see that there are some very cool movies currently in production.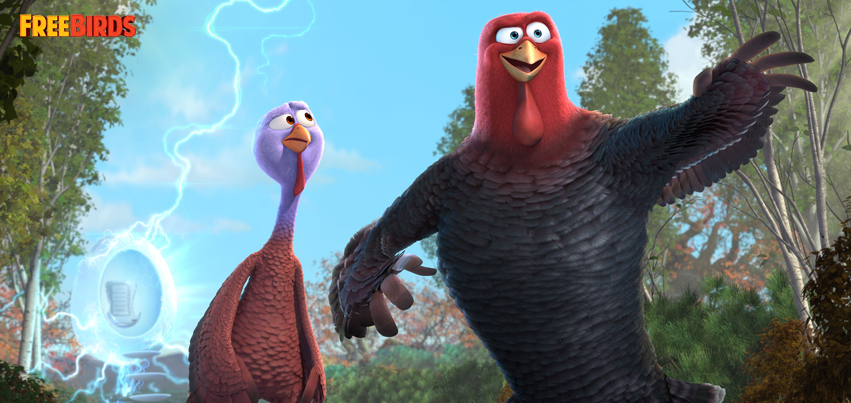 The biggest movie on our horizon is Free Birds, which will be opening in theaters around the country on November 1. This animated feature, starring Woody Harrelson and Owen Wilson, tells the story of  Reggie, who was "pardoned" by the President, and Jake, who is the president and only member of Turkeys Liberation Front. They team up and travel back in time to prevent turkeys from becoming the traditional Thanksgiving meal.
Though we've been anticipating this movie from way back in June 2010 when it was tentatively titled "Turkeys," now that it's actually almost here, I'm trying not to get excessively excited. Who knows if it will be good (though one would hope vegan advocate Harrelson will have kept the messaging on track)? And even if it is good, will it have an effect? There are always an awful lot of people who can look at movies that feature talking animals and just not relate it to the real animals of this world. (Remember the Babe Happy Meal?). But if this movie actually reveals anything at all about the horrifying reality of how real turkeys are turned into Thanksgiving dinner (Chicken Run did a pretty good job in its cartoon portrayal of factory farming — we reviewed it way back on Episode 29 of the podcast), it has the potential to have a real impact. So basically, I CAN'T WAIT. (Pleeeeaaaassse let it be good.)
While Free Birds is the big news, there are other movies currently in production that, while they may not have quite the potential of a Harrelson/Wilson feature, have enormous potential to change hearts and minds .
One that we have our eye on is an indie feature called Days of Power. It's a thriller about a missing singer-songwriter that is based in the world of puppy mills. According to filmmaker Michel Grey, "We believe that if more people understood exactly what man's best friend is legally allowed to endure, the general public would be outraged," and this film "will allow the masses to understand about puppy mills while being entertained without being preached to." While documentaries about animals have been enormously important in getting the word out, I love the idea of bringing animal rights issues to people through fiction. It allows a film to reach an audience that might not otherwise be open to hearing about these issues, and allows the information to be conveyed in a way that doesn't make people defensive. One of our favorite animal rights films, Bold Native, is a perfect example of this powerful kind of story-telling. I hope that Days of Power will be as well.
Another new film that we recently heard about is PlantPure Revolution. Like the hugely influential Forks Over Knives (which we discussed way back on Episode 48), it features Dr. T. Colin Campbell (who was just on Episode 192) and Dr. Caldwell Esselstyn. This time, the focus will be on the work of Dr. Campbell's son, Nelson, who spearheaded a program in a small Northern Carolina town, getting people to try out a plant-based whole foods diet and tracking the results. The previews show the predictable (to us) and completely amazing (to everyone else) results — almost instantly, people's health improves dramatically. I love stories about people who are being destroyed by the meat-centric Standard American Diet finding salvation through plants. Our personal favorite, Fat, Sick and Nearly Dead, actually changed our lives (to the point that Jasmin is in a recent TV advertisement for the movie!). There's something so gratifying about watching these kinds of stories and seeing people get their health back — even though I haven't the slightest doubt how it all comes out, I still can't wait until this film is completed to watch it all happen.
Movies are an incredibly important tool in changemaking. Certainly, one of the easiest ways to change the world for animals is to get the people you know to go to an animal-friendly movie. When movies like these hit the theaters, they are also terrific opportunities for leafletting. And they can also be a jumping off point for conversations in which you can tell people what's really going out there in the real world. So keep your eye out for these three.