"To appreciate pigeons, to celebrate their lives, is to see the world in a particular way." Wise words from our very own Mariann Sullivan, who since the publication of this #ThrowbackThursday article has lived in the company of a pigeon tattoo on her left shoulderblade. Read on to see why.
This article originally appeared on Our Hen House on December 9, 2012. If you'd like to see a certain OHH article resurrected, email us at info [at] ourhenhouse [dot] org.
***
I did it. I kind of didn't think I would, but then I did, mildly surprising all who know me, including even Jasmin.
I got a tattoo.
I've always loved tattoos, but the fact that I had gotten to my fairly advanced age without getting one seemed to indicate that it wasn't going to happen. I am a thinker, not a doer. Sometimes I get as far as thinking about doing. But I don't often get much further.
But, then, Jasmin, an energetic, committed (okay, occasionally impulsive) doer entered the picture, decided I should fulfill my lifelong love of tattoos, wrested from me my most favored idea – the one I'd been harboring in the back of my mind, got the incomparable Sue Coe to draw it, and the extraordinary Brian Wilson of Scapegoat to agree to etch it on to my back, and there I was. I was no longer in a position to avoid it.
In case you haven't figured it out from the photo, I'm going to tell you what I got. A pigeon.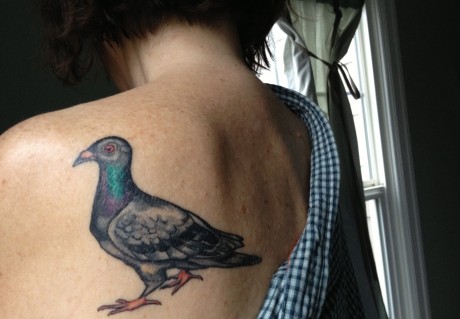 Reactions?
Anti-climactic? Absolutely fabulous? Perplexing?
I have, in fact, said for a long time that pigeons were my icon animal. Brought to the shores of North America in the early 1600s to be used for food, including to New Amsterdam by the Dutch, pigeons began escaping almost immediately. (I am, of course, referring to what are officially called "Rock Pigeons" but are universally referred to as simply "pigeons." These are the kind of pigeons you see pretty much everywhere, especially if it's urban.) While North America's native Passenger Pigeons were driven to extinction by the early 1900s, their feral cousins continued to thrive. And they continue to thrive today.
They thrive largely upon the discards of – and in spite of the ill wishes of – humans. They are hated by many, perhaps most famously by Woody Allen, who quotably referred to them as "flying rats." (Don't get me started on why being compared to a rat is not actually an insult. Oh, and as for Woody Allen, he pretty much lost all credibility once he married someone who was, for all intents and purposes, his step-daughter. But, I digress.)
So there you are. They got out of their human imposed destiny as food. Everyone hates them. They thrive anyway. Oh, and they are, of course, utterly beautiful, which is always nice in a tattoo. If they were rare, people would be oohing and aahing. But we generally only realize that animals are lovely once we have driven them to the brink of extinction. The trick is to notice their beauty even when it's everywhere.
When I first got involved in the animal rights movement back in the 90s, pigeons were a big deal. The infamous Hegins, Pennsylvania pigeon shoot had been going on for years, and had become a touchstone event for activists, who gathered there year after year to protest and rescue the injured birds. I never actually made it. Although someone had talked me into going, she backed out at the last minute and, carless, I breathed a sigh of relief, tinged with disappointment, and thought, "Next year." There was, happily, no next year, as a court battle ultimately put an end to that particular act of barbarity.
Unbelievably though, pigeon shoots continue in Pennsylvania, less well publicized than Hegins but just as barbaric. It used to be rumored that the birds were rounded up on New York City streets by secret pigeon netters in the middle of the night and carted off to be released and immediately shot by morally bankrupt Pennsylvanians. The rumor was, of course, just a bit too ridiculous to be believed, but, like so many other crazy, horrific things that we hear about regarding animals, ultimately turned out to be completely true.
Pigeons have it hard in so many other ways as well. As non-native, non-migratory birds, they have few legal protections. Considered pests, they are regularly poisoned, chased and harassed in the name of clean window ledges and statues. They are accused, unfairly, of spreading disease. And now, with the introduction of the much more glamorous, socially acceptable, and enticingly endangered raptors to the urban environment, they frequently serve as food for hawks and falcons.
Many would say that the world would be better off without pigeons. That to get a tattoo of a pigeon is really missing the point. That pigeons are a problem that needs to be solved.
To appreciate pigeons, to celebrate their lives, is to see the world in a particular way. Don't get me wrong. I recognize that the impulse to fix what humans have screwed up – including the fact that there are non-native pigeons all over the place in every city in North America – is not bad in and of itself. In fact, it's not only understandable, it's laudable, particularly when you consider how much pigeons suffer at the hands of humans who feel free to hate them because the are in the "wrong" place and there are "too many" of them.
However, thinking solely in those terms runs the risk of missing something fundamental about the way life is actually lived, whether by humans or pigeons. When we see the world as our broken toy that we must fix, when we think a bit too globally, and get a bit too abstract, we too often miss everything in front of us. We miss the beauty and wonder of each extraordinary pigeon living his or her life one by one by one. And that's why one of them is now tattooed on my left shoulder blade.