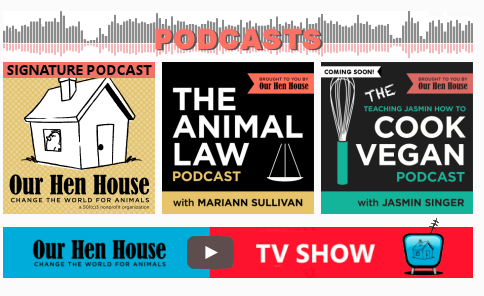 This past year was colossal. Because you care about changing the world for animals — as we do — Our Hen House has recently been able to expand our podcast lineup to include the Animal Law Podcast, with Professor Mariann as your host. Coming very soon is the much-anticipated Teaching Jasmin How to Cook Vegan podcast, bringing you Jasmin-friendly vegan recipes and in-the-kitchen help from our favorite vegan chefs and do-gooders. Another great addition to the Our Hen House media empire is our recent gone-viral video, "Coming Out for Animals," in which passionate LGBT activists share personal stories of connecting the dots when they embraced animal rights. Our signature weekly podcast aired its 300th episode on 10/10. We've been able to do so much because of your commitment to this work.
Our very special supporters — the incredible Barnyard Benefactors — have pulled out all the stops for our end-of-year fundraising. They've leveraged their resources to create a whopping $37,500 matching pool — the biggest ever for Our Hen House. Every donation from now until December 31 will be matched, dollar for dollar! With your help, we'll be able to put the entire matched amount — $75,000 — to work!
You already know there is no other organization like Our Hen House. Please help us continue to change the world for animals.