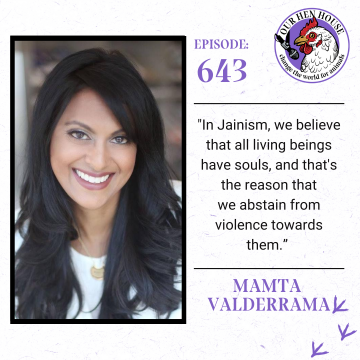 Mamta Jain Valderrama joins the podcast for an insightful discussion about Jainism and the many ways in which its beliefs intersect with veganism. Jainism is one of the oldest religions in existence, having taken form in ancient India some time between the 7th and 5th centuries BCE. In our conversation, Mamta explains the philosophy of ahimsa, or non-violence, that practitioners of Jainism follow. She shares the Jain belief that all living beings have souls and discusses how this belief drives Jains' eating habits and way of life, both of which often align with a vegan lifestyle. Mamta also digs into feminism and why she believes it's vital for the animal protection movement to not only focus on hiring women but also to create a culture that uplifts their voices. 
*We are thrilled to expand the accessibility of our podcast by offering written transcripts of the interviews! Click here to read Mariann's interview with Mamta Jain Valderrama.*
Mamta Jain Valderrama is the Senior Vice President of Operations at Mercy For Animals. Prior to working in animal rights, Mamta led operations for various healthcare companies and start-ups. She has a bachelor's degree in journalism from George Washington University and an MBA from the University of Southern California. She took time off from the corporate world to write A Girl In Traffick, a thriller novel about human kidney trafficking. Her book is self-published and made it to the Amazon bestseller list in the thriller category. Mamta comes from the Jainism culture, which teaches nonviolence toward all beings. She has been vegetarian for 38 years, and on-and-off vegan and raw almost her entire life. She is now fully vegan for three years and is never going back. Originally from Los Angeles, Mamta lives in Scottsdale, AZ, with her husband and daughter. 
"In Jainism, we believe that all living beings have souls and that's the reason that we abstain from violence towards them." – Mamta Jain Valderrama
Highlights for Episode 643: 
Mamta's role as Global Senior Vice President of Operations for Mercy for Animals
What incentivized her to make the leap from healthcare into animal activism
Mamta shares her experience of growing up in the Jain religion and

 

how it shaped her worldview
Attitudes of modern Jains about consuming dairy and why they have evolved over the years
Mamta's reaction to newer, hyperrealistic vegan meat substitutes

 

The importance of inclusion and diversity in the animal rights movement

 

How organizations can encourage women to step forward and be heard
Why creating a seat at the table is a first step towards elevating women in leadership roles
How the animal protection movement can attract people from different sectors to add even more value to the movement
Resources:
Connect with Mamta Jain Valderrama:
Connect with Our Hen House:
_____________________________________________
Thank you for listening to the Our Hen House podcast! If you enjoy our podcasts, believe in our mission to effectively mainstream the movement to end the exploitation of animals, find community and solace in our shows and resources, and would like to show your support for vegan indie media, please make a donation today.
You can listen to our podcast directly on our website, or subscribe on Apple Podcasts or your favorite podcatcher! Also, if you like what you hear, please rate it and leave us a comment on Apple Podcasts!
Don't forget to check out Our Hen House's other podcasts: The Animal Law Podcast, The Teaching Jasmin How to Cook Vegan Podcast, and the Antiracism in Animal Advocacy Audio Series.
The Our Hen House theme song is written and performed by Michael Harren.
__________________________
This episode is brought to you in part by Meow Meow Tweet. Meow Meow Tweet creates vegan personal care for every body. Always ethical, low-waste, handmade & cruelty-free. They are also not only a Certified B Corp, but also certified plastic negative, climate neutral and leaping bunny certified. Right now Meow Meow Tweet is offering a discount for our listeners only! You can save 20% by visiting their website and using the code HENHOUSE at check out.
__________________________
This episode is brought to you in part by Miyoko's Creamery. From their humble beginnings with 4 employees in Miyoko's home kitchen, to a 30,000 sq ft. state-of-the-art facility in Sonoma, Miyoko's Creamery is leading the way in transforming the future of the creamery. Miyoko's Creamery is changing perceptions of vegan food, to inspire people from all walks of life to enjoy a phenomenally vegan lifestyle and right now our listeners can get 15% off by visiting their website and checking out with code HENHOUSE15.
__________________________
This episode is brought to you in part through the generosity of A Well-Fed World. A Well-Fed World provides the means for change by empowering individuals, social justice organizations, and political decision makers to embrace the benefits of plant-based foods and farming. Learn more at awfw.org.