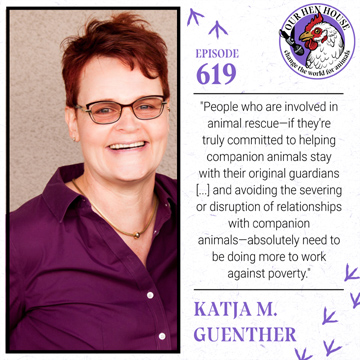 The remarkable Katja M. Guenther, PhD joins the podcast this week for an eye-opening interview about companion animal shelters and their practices, and the intersections of poverty, race, stigma, and animals. This is an interview you won't want to miss. Dr. Guenther, a sociologist and author of The Lives and Deaths of Shelter Animals, describes her three years of ethnographic research at a high-intake shelter in Los Angeles and uses what she learned there to discuss the dichotomy between our love for the animals we claim to treat as our best friends and our continued use of shelter killing as a 'solution' to unhoused companion animals who live in underserved communities. She breaks down how shelters may deflect blame onto what they characterize as "irresponsible owners" instead of looking at the social problems that give rise to situations which result in harsh, and often deadly, outcomes for animals.  She also discusses acts of resistance by both the humans and the animals in the shelter and explains why she believes animal rescue and shelter advocates should be doing more to end poverty.
Katja M. Guenther is a Professor of Gender & Sexuality Studies at the University of California, Riverside. Her main areas of research, writing, and activism are feminist politics and the human exploitation of non-human animals. Her newest book, The Lives and Deaths of Shelter Animals, is the 2021 recipient of the Distinguished Book Award given by the American Sociological Association's Section on Animals & Society. She is currently developing a feminist analysis of how rescuers of companion and free-roaming animals represent and negotiate those relationships. She is also researching the roles community ("feral") cats occupy in low-income communities and the relationships they build with human caregivers.
"People who are involved in animal rescue—if they're truly committed to helping companion animals stay with their original guardians […] and avoiding the severing or disruption of relationships with companion animals—absolutely need to be doing more to work against poverty." – Katja Guenther
Highlights:
The dramatic contrast between what happens to animals in wealthier communities when they lose their homes, as opposed to those in poor communities.
How pit bulls epitomize attitudes towards Black masculinity and how shelter policies against pit bulls can act to discriminate racially
Adverse conditions that pit bulls experience at the shelter, regardless of any kind of behavior testing
How not to fall into the trap of equating poverty with irresponsibility towards companion animals
Resistance, both from humans and animals, to policies within animal shelters
How mourning becomes an act of defiance
Connect with Katja Guenther:
Connect with Our Hen House:
__________________________
Thank you for listening to the Our Hen House podcast! We invite you to join our end-of-year matching campaign where your donations will be TRIPLED, dollar-for-dollar, up to $20,000, between now and December 31! That means with your donation—plus our Barnyard Benefactors and an added boost from an anonymous donor—we are hoping to raise $60k total.
We can't do it without you! The only way we'll receive the matching funds is if we successfully reach our goal of raising $20k from our loyal supporters by the end of the year.  Any amount is hugely appreciated, and Our Hen House is a  nonprofit organization, so it's tax-deductible! If you're a regular listener and would like to connect with us more personally, we invite you to join our flock for $10/month or $100/year.
So, if you enjoy our podcasts, if you believe in our mission to effectively mainstream the movement to end the exploitation of animals, if you find community and solace in our shows and resources, and if you believe in the change-making power of indie media, please make a donation today.
__________________________
This episode is brought to you in part through the generosity of A Well-Fed World. A Well-Fed World provides the means for change by empowering individuals, social justice organizations, and political decision makers to embrace the benefits of plant-based foods and farming. Learn more at awfw.org.
__________________________
You can listen to our podcast directly on our website, or subscribe on Apple Podcasts or your favorite podcatcher! Also, if you like what you hear, please rate it and leave us a comment on Apple Podcasts!
Don't forget to check out Our Hen House's other podcasts: The Animal Law Podcast, The Teaching Jasmin How to Cook Vegan Podcast, and the Antiracism in Animal Advocacy Audio Series.
The Our Hen House theme song is written and performed by Michael Harren.